Cafes for remote working in CDMX
I've been working remotely for nearly a decade and I've got ~thoughts~ about what makes a cafe good for coworking. Here are my favorites in Mexico City!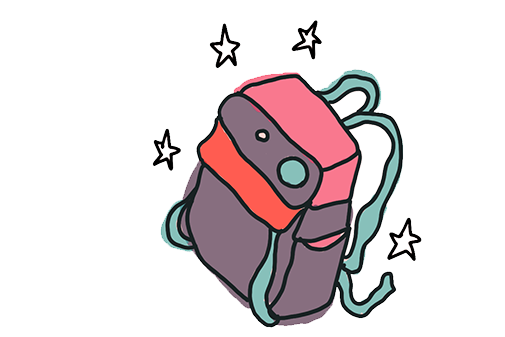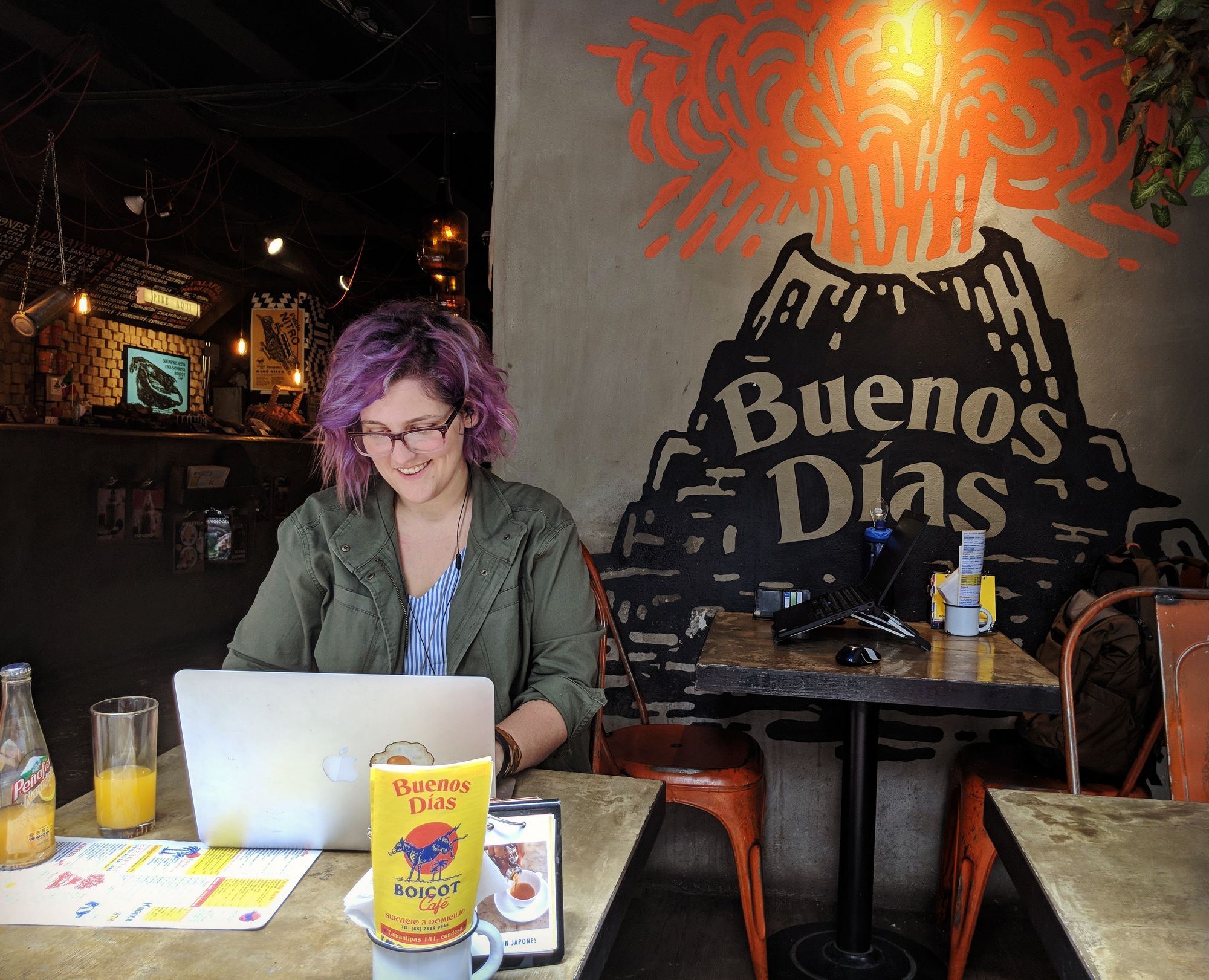 One of my favorite things about Mexico City is the cafe culture. If you stay in Condesa or Roma Norte (as most visitors do), you'll be overwhelmed by options!
I've lived here for four years now and I spend almost every weekday at a cafe. At any given time, I have 4-6 that I'm rotating between depending on my laziness, meeting schedule, food cravings, and evening plans. Sometimes I'll even find a promising cafe in a more far-flung location and use that as an impetus to explore a new (to me) part of the city.
Suffice to say, I spend a lot of my time in cafes and exploring new ones has become a hobby of sorts. And I love sharing my recs!
There are plenty of round-ups of "cafes good for working" in CDMX but... none of them up to my standards. 😆
A lot of these lists seem to be written by people just pulling their info from Google Maps, and others recycle the same five cafes over and over—many of which are overrated imo.
I hope this list helps you find some new favorites!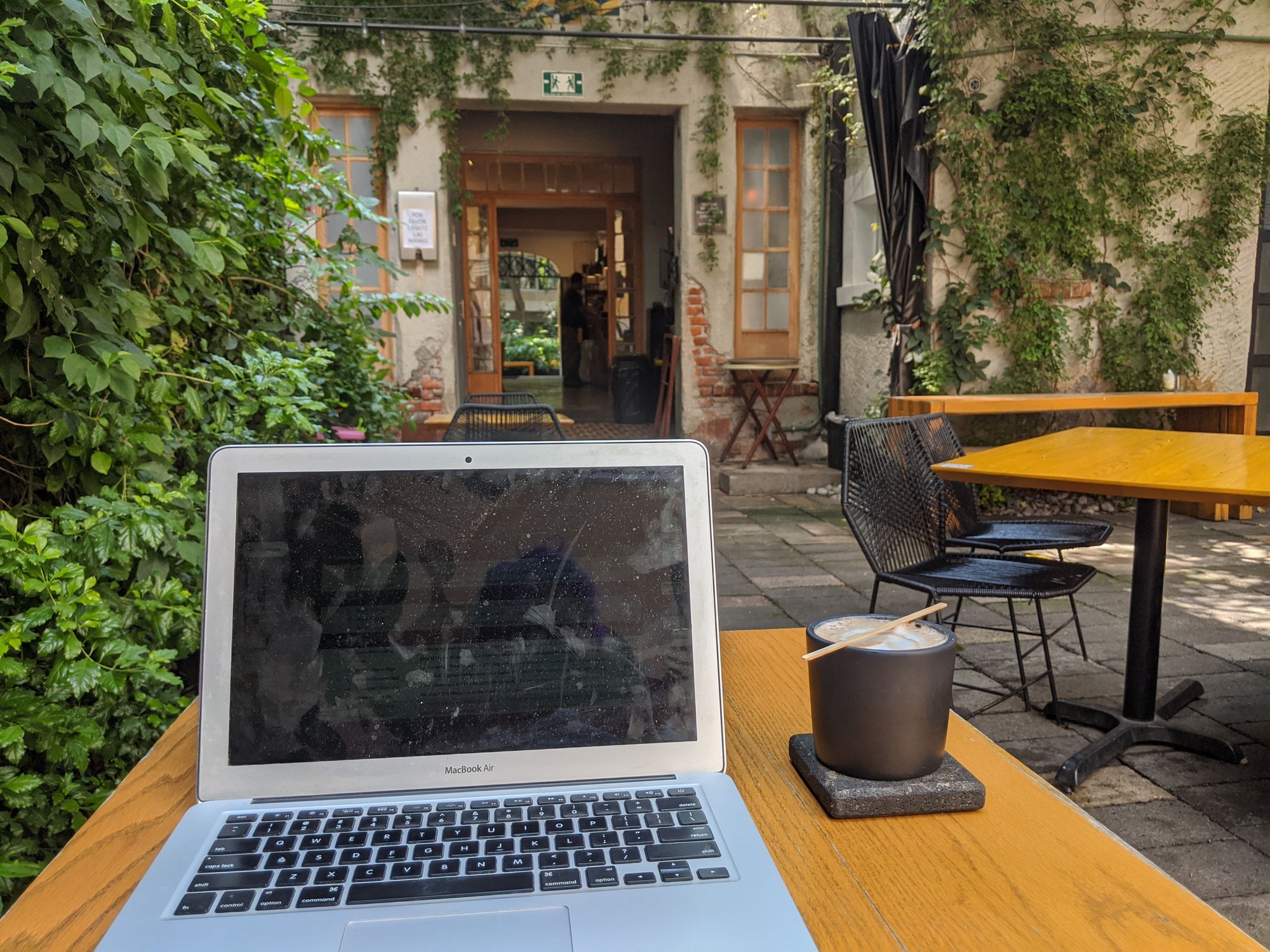 Alegre Cafe (Roma Norte)
A tiny cafe on Insurgentes, the main street running between Condesa and Roma. The coffee is great but the food options and seating are both limited. It's never full, but there's only a few tables. Still, the internet is great and the staff is friendly and attentive. Also, one of the quieter spots so I try not to take too many calls here, even though the wifi can support it.
Basico (Roma Norte, Polanco)
Health food cafe that does a wild amount of delivery orders and is therefore always half empty. (Or at least, the Roma location is. I've never actually been to the one in Polanco.) The coffee is not good, but they have a large menu of juices, smoothies, and healthy lunch options. It's a great workplace for folks who don't drink coffee or have dietary restrictions, and my go-to salad and smoothie place. The internet is fast enough for calls, but be aware that the music can get loud.
Baveno (Roma Norte)
A larger, open-air cafe that's only recently started to attract its fare share of laptops. Their nice big tables are a great fit for folks who likes to spread out and about half are within range of an outlet. They serve a full menu, pastries, and a delicious honey cold brew so there's no reason not to stay a while.
Boicot (Condesa, Polanco, Roma Norte)
Local chain with three locations that serve as defacto work spaces. They are cute, with a variety of indoor and outdoor seating options. If you're looking for a coworking vibe, Boicot is your best bet. It's the vibe and the wifi that are the strongest selling points. Their coffee is decent and their menu is huge - large selection of baked goods, full meals, and more drink options than you will ever be able to get through. Just make sure to bring your noise-cancelling headphones, because there are Spanish classes galore happening all the time!
Brewklyn Coffee House (Condesa, Del Valle)
Stylish little coffee house with great drinks, good service, and a food menu that's a little more interesting than some of the other cafes on this list. The Del Valle location has a nice patio out front that I love working from, but the internet isn't fast enough for calls. Their new location in Condesa though is bigger and call-friendly.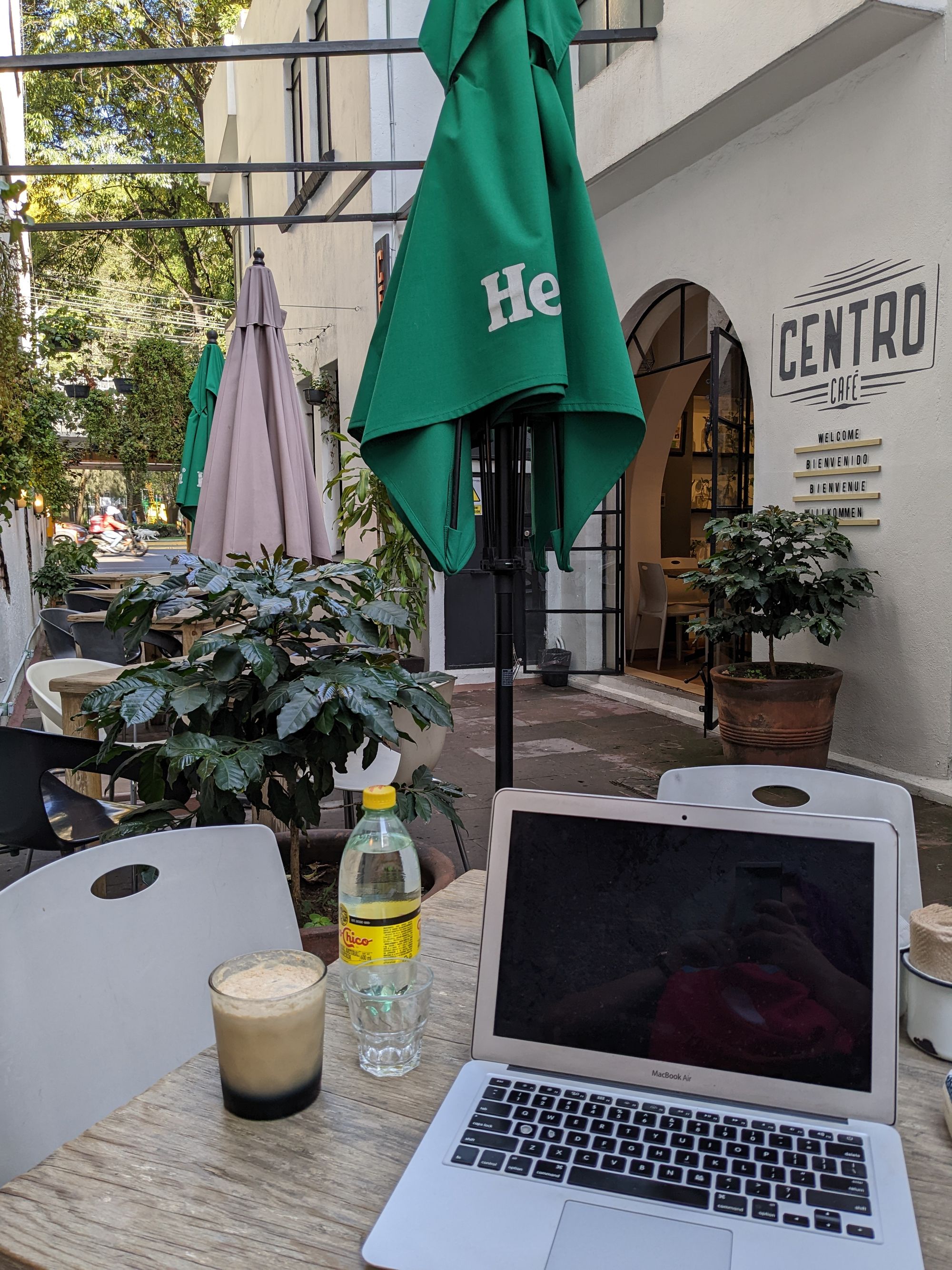 Buna (Doctores, Roma Norte)
A specialty coffee roaster first and foremost, Buna is a great place for a cup of coffee. Their Roma location is more for takeaway, but their Doctores location (where they do all their roasting) is the best cafe in the neighborhood. It's part of a rehabbed warehouse with artist studios called Laguna, and it's a beautiful space with great wifi, accessible outlets, and a small food menu.
Cafe Centro (Condesa)
A new cafe across from Parque España that has a lovely patio and a small indoor seating area, all of which have plugs. It's an easy place to linger and the wifi is strong enough for calls so it's an easy place to enjoy the day. The coffee is great and they have a small, basic food menu too. The staff is super sweet too!
Cafe Comunidad (Condesa)
A newer cafe with cozy seating options, fast wifi, and plenty of plugs. The coffee is not great, but the juices and healthy food options are worth trying. There's also a connected yoga studio.
Cafe Negro (Coyoacán)
Everyone's go-to work spot in Coyoacán! It's always busy and not huge so you have to get there early to grab a table, but the drinks and food are both pretty good. (Although, there's too much good food in the immediate vicinity to actually eat there if you don't have to.) Definitely a nice vibe!
Chez Vous (Coyoacán, Del Valle, Del Valle, Juárez, and Polanco)
Another chain of "coworking cafes" with locations around the city, including areas where it's a little harder to find good spots for working. Hourly rates start at $45 pesos for a basic beverage and snack, but an upgraded plan is available for $75 pesos if you want a bigger menu and/or to book private space. Day and month passes are also available.
Chiquito (Condesa, Cuauhtémoc, and two locations in Lomas)
The smallest table award goes to Chiquito! But, in their defense, chiquito means tiny and this local chain of cafes are exactly that. There are limited tables both inside and outside but the coffee and food are both good.
💰
No one likes a nomad who parks at a busy cafe for five hours and only buys two cups of coffee. Don't be that nomad! Order a decent amount of food or drinks if you're going to stay around. And tip well!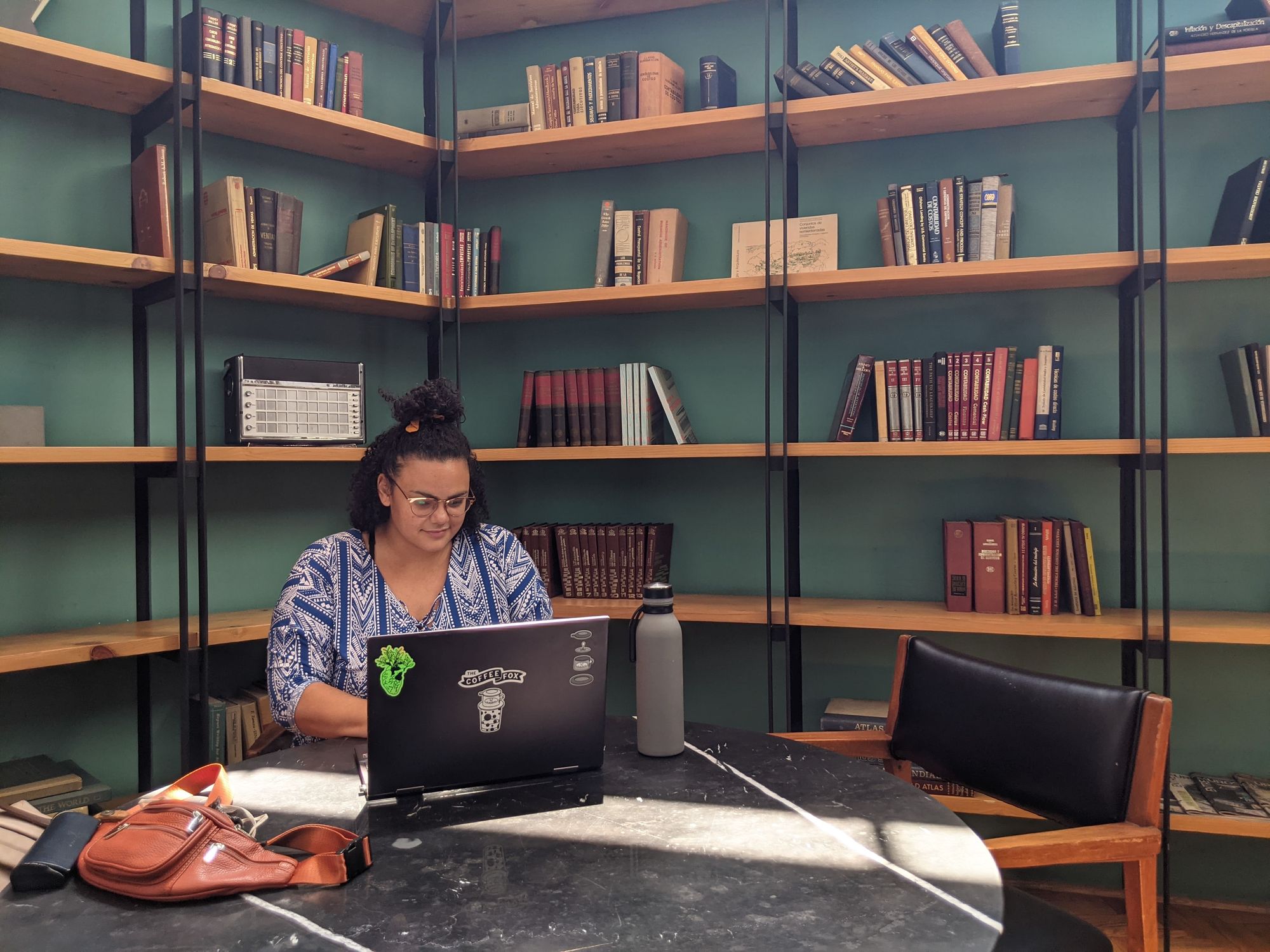 Coffeefy (Del Valle, Juárez)
This "coworking cafe" has a variety of seating options and a simple food and drink menu. It operates like a regular cafe if you stick to the common spaces, but you can pay ~$50 pesos/hour/person to book meeting rooms or call booths and that includes a basic beverage and snack. It's definitely one of my favorite spots to work in Juarez, but I haven't been to the Del Valle location yet.
Curado Cafe (Roma Norte, Juárez)
Not gonna lie, I almost didn't include this one because it's my favorite and lesser known amongst remote workers. They've got the best coffee on this list, lightning fast wifi, and the Roma location has dedicated the back half of the cafe to working—with big communal tables, power strips, and comfy office chairs. Their Juárez, meanwhile, is pretty small and not ideal for coworking.
Díaz de Café (San Angel)
This small cafe has embraced the pink terrazzo that has become part of CDMX's hipster aesthetic. It makes the seating a little hard, but that's about the only downside of this cafe. It's on the small side but there's always room to settle in, plenty of outlets, and good coffee too. It's located inside the same building as a food hall so you'll have lots to choose from when you step out for lunch. (I've also worked from the roof/balcony of the food hall and it's fun/doable, but the wifi isn't the fastest.)
Enhorabuena (Condesa)
This cozy, open-air cafe is always buzzing! The size and layout of this place makes it one of the louder ones, but it's a good spot to squeeze in a few hours of work. There's an outlet under every table (I promise, it's tucked back there) and the internet is usually strong enough to take calls. The pastries are lackluster, but they serve a full menu that's simple but well executed.
Frëims (Condesa)
A restaurant where you won't be the only one with a laptop. There are small but comfy tables inside (with no outlets) and a beautiful outdoor patio (with a few outlets). The internet is good but not great so it's good for a call-free afternoon. They have a full coffee bar and food menu, as well as good cocktails. Try the dirty chai or the vuelta impensable.
Giro Central (Roma Norte; also in Lomas)
Cute cafe with good sandwiches and coffee. Their Lomas location is my favorite in the area, but the Roma location is too small for an ideal work spot. For cyclists, both spots have an attached bike shop and club that does group rides.
💡
Thanks to our mild weather, most cafes in CDMX have open-air seating or patios. It's lovely! But it can also be loud. Buskers are common and the increased volume can be disruptive.
If you have a lot of meetings but still prefer to work from cafes, I recommend using
Krisp
to block all background noise. The free plan includes 90 min/day but you can also use my
referral link
to get one month for free.
Loose Blues (Juárez)
The ground floor of this spot is a hipster boutique, but the top floor is an airy Japanese-inspired restaurant and cafe. It's great for an afternoon work session when you want more than the standard cafe food. They have good coffee, cocktails, and an even better lunch special. Not a "buckle in and be there all day kind of place," but a great place to spend an afternoon.
Panadería Costra (Navarte)
Two of my favorite things are dirty chai lattes and cinnamon rolls, and this place is one of the best spots for both. There's minimal seating and it's not the comfiest but, because it's off the beaten path for nomads, it's easy to get a spot and stay for a few hours. The wifi is fast and reliable (I've taken calls here) so you won't be the only one with your laptop.
Pergamo (Roma Norte)
A stylish cafe with good coffee and super fast wifi. The place is small so seating is limited to a bar and a few two-tops but the place is always empty so it's easy to get a table and linger for hours without bothering anyone. They serve a small food menu that's mostly sandwiches and pastries. The staff is really friendly too.
Postales de Café (Condesa, Condesa)
This local chain has two locations in Condesa - an original, and one on Amsterdam. I've never worked from the former, but the latter is on the first floor of a coworking space so it's always full of remote workers. (Key word being full!) There's a variety of seating, plentiful outlets, and decent espresso drinks. The downsides are a wifi network that requires you to ask for a new password every hour or so and a lot of lounge-y seating that isn't super work-friendly.
Qūentin Café (Condesa, Roma Norte, Juárez)
A local chain with some of the best coffee in town. That's definitely the draw here! The spaces themselves are very hip, but tiny and somewhat awkwardly shaped. I don't think they're great for working but that doesn't stop people from perching there with laptops all the time. So, technically an option when you're prioritizing coffee quality over space!
Prefer to browse by neighborhood?
Central
Condesa — Boicot, Brewklyn, Cafe Centro, Cafe Comunidad, Chiquito, Enhorabuena, Frëims, Postales de Café (x2), Qūentin Cafe
Cuauhtémoc — Chiquito
Doctores - Buna
Juárez — Chez Vous, Coffefy, Curado, Loose Blues, Qūentin
Roma Norte — Alegre Cafe, Basico, Baveno, Boicot, Buna, Curado, Giro Central, Pergamo, Qūentin
South
Coyoacán — Cafe Negro, Chez Vous
Del Valle — Brewklyn, Chez Vous (x2), Coffefy
Navarte — Panadería Costra
San Angel — Díaz de Café
West
Lomas — Chiquito (x2), Giro Central
Polanco — Basico, Boicot, Chez Vous
🇲🇽
This is an excerpt from the "Places to Work" section of my
Remote Worker's Guide to Mexico City
. If you're planning an extended trip to CDMX, it's got all the recommendations and pro tips you need to make the most of your trip. You can learn more about it
here
.
Caro Griffin Newsletter
Join the newsletter to receive the latest updates in your inbox.