Amman, Jordan
Amman is not exactly a remote work hotspot, which makes it hard to get settled. Here are all my pro tips!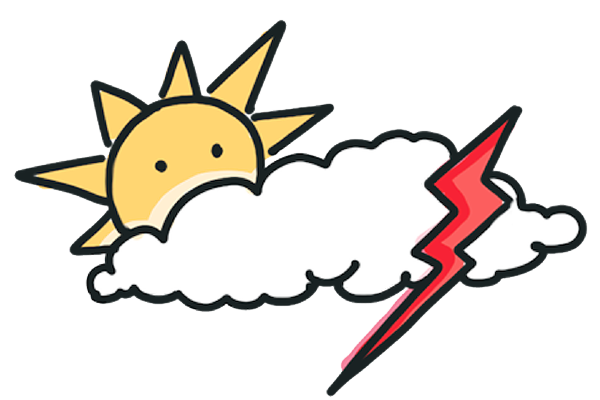 Amman is not exactly a remote work hotspot.
All the foreigners in town are there for a one-week vacation or a six-month Arabic program. There is no in between. Which means there aren't a lot of resources out there for nomads who may be trying to figure out where to stay or work in town.
I spent most of January in Amman and talked openly on Twitter and Instagram about how much I was enjoying my trip so a few travelers have reached out since about planning their own trip.
I decided to round up all my advice to save them the trouble I had. I'm an ops person, after all. No use reinventing the wheel when you don't have to. 😎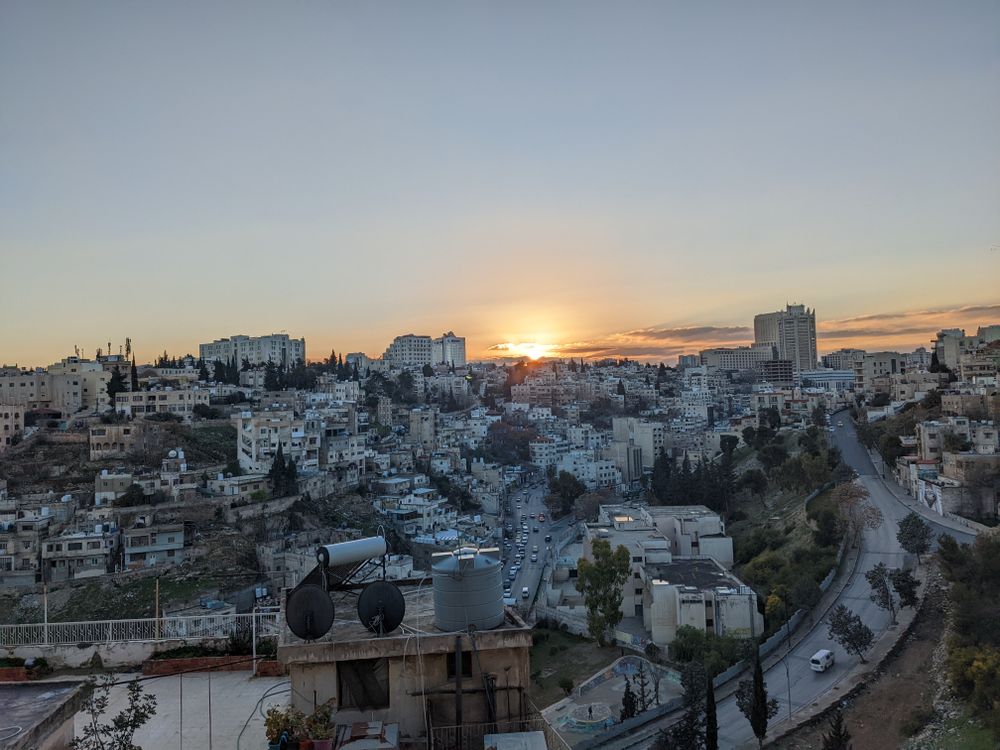 Where to stay in Amman
Amman is a city of hills. It was initially built on seven hills (or jabals) so most neighborhoods are called Jabal x, Jabal y, etc.
Generally, the west side is more modern—think shopping malls, skyscrapers, embassies, nice hotels, etc.—and the east side is a bit more historical. I spent most of my time in Jabal Amman (downtown) and Jabal Weibdeh (east of downtown).
I recommend that nomads stay in Weibdeh because it's centrally located but has more of a relaxed, neighborhood feel. It's really walkable, with tons of restaurants and cafes nearby, and I felt safe walking home alone even late at night.
It's definitely an expat neighborhood but I found it to be a good balance. There were enough foreigners around that I didn't stick out like a sore thumb, but I also didn't feel like I was living in a foreigner bubble.
(For those familiar with Mexico City, it's definitely not a Condesa or Roma but it's the closest thing to it.)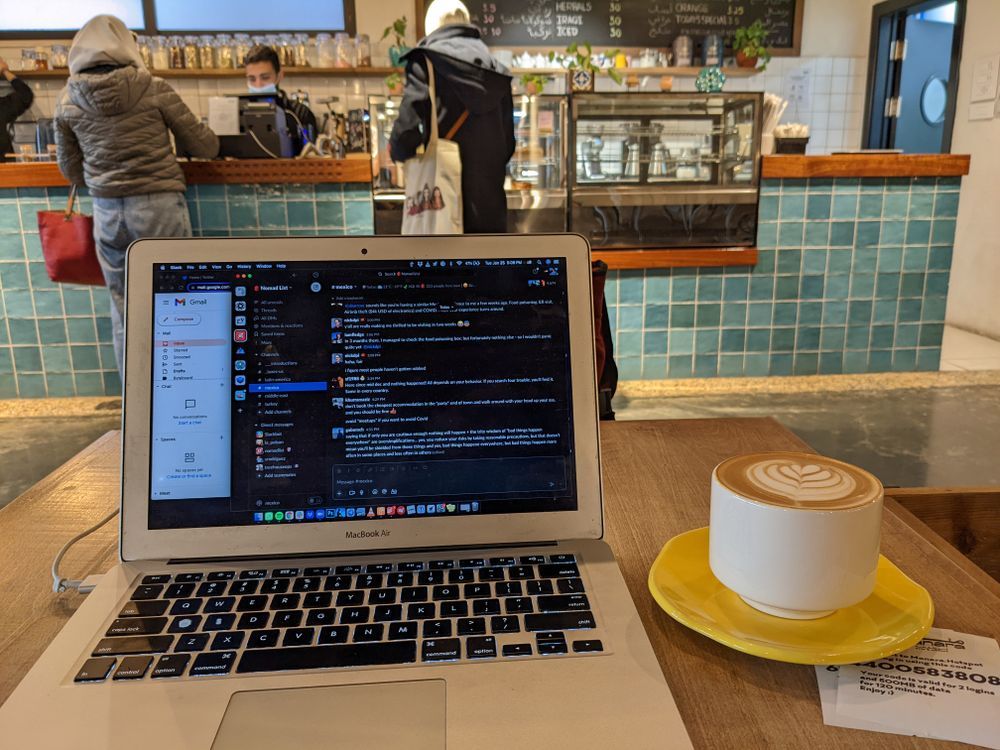 Where to work in Amman
Jordan is not a remote work hub so my usual hacks for finding good work spaces in Amman failed me pretty quick.
The internet at my Airbnb proved unreliable so I spent my first few days in town running around, trying to find good spots to work from. Luckily, there are a few! You just need to know where to look...
Coworking Spaces
Deewan Institute (10a-8p)
A language school in Weibdeh that offers coworking for 1 JOD/hour (and discounts if you buy in bulk). It's a nice, cozy workspace and a great place to meet both foreigners and locals because everyone there either speaks English or is there to learn it. Coffee in Amman is a little pricey so this is also a good option for those on a budget, especially if you want to pack your own lunch.
I liked doing deep work here in the afternoon, but often relocated after that to a place where I could take calls and work past 8p. There are no call booths or meeting rooms so the only place to take those without disturbing others is outside in the garden. (Which was chilly in January!)
Internet Speed: 86mbps down, 92mbps up
Antwork (24/7 for members)
A traditional coworking space spread across two buildings downtown. You can book a tour online and get your first day free, and then upgrade in their app.  I ended up buying a 4-day pass here because I needed a spot to record my podcast.
The staff is friendly and the space is well equipped but it's kind of awkward to work there as a nomad. Everyone keeps to themselves and clears out between 5-7pm so there were nights where I was literally the only one there. (Pros and cons to that, obvi.) Additionally, the meeting rooms are wildly overpriced imo, especially since there aren't any call booths for when you just need to take a casual Zoom call.
Internet Speed: 8.5mbps down, 5.4mbps, upgrades available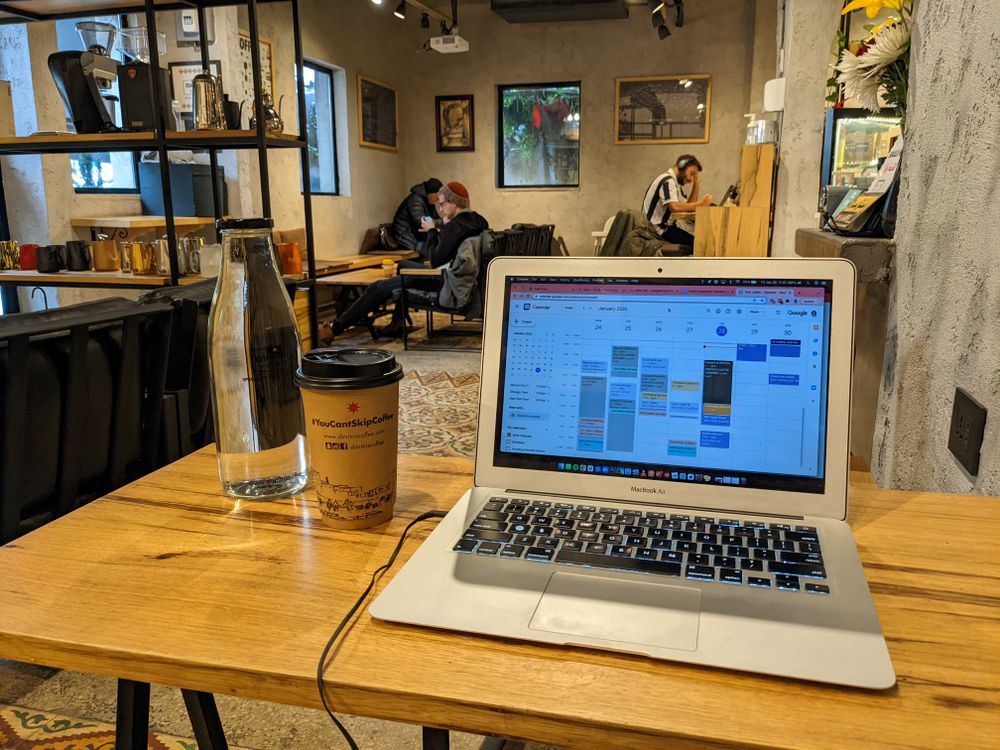 Coffee Shops
Dimitri's Coffee (7a-11:30p)
Dimitri's is a Jordan-owned brand with a few locations around the city. Their Weibdeh location was hands down, my favorite work spot in Amman. The coffee is great, the wifi never misses a beat, and the baristas are adorable. (Maybe that's a weird way to describe grown men but they were so sweet that I wanted to hug all of them by the end of the month... and almost did when they gifted me a mug to 'remember them by' on on my last day in town. 😭)
There are plenty of people studying Arabic, hanging with friends, or taking calls so I really enjoyed the vibe for both deep work and meetings. It's easy to become a regular and get to know other regulars. So grab the corner seat at the bar, order a Spanish latte, and tell everyone hi for me. 💜
Internet Speed: 56 mbps down, 32 mbps up
Manara Arts & Culture (9a-11p)
A three-floor arts center in Weibdeh with a big cafe and terrace on the first floor that's great for working, especially around sunset. The coffee is good and there's a restaurant upstairs when you need a food break.
The main downside to this spot is that the wifi is limited. You can ask for a code with purchase but it's valid for "2 logins of 500MB of data for 120 minutes." Totally reasonable, especially since most baristas gave me two, but it always disconnected right in the middle of a meeting for me. 😅 Prepare accordingly!
Internet Speed: 8 mbps down, 6.8 mbps up
Almond Coffee House (7a-1a)
Probably the most popular working cafe in Amman! There are two large locations on the west side of the city and they are always full of people studying. Be prepared to share a table, and make sure to stick to the first floor if you don't like smoke.
The coffee is decent and they have a larger food menu than most cafes so it's a nice place to work for long stretches—especially if you're staying on the west side of the city or overlap with Pacific coast hours. (They stay open later than most spots.) But, while the wifi is fantastic, the quiet vibe and closely-packed tables make it a little awkward for calls.
Internet Speed: 171 mbps down, 89 mbps up
Dali (8a-11p)
A large restaurant/bar in Weibdeh that always has at least a few people working on laptops and talking on the phone. They have a large food and drink menu (mainly bar food like burgers, fries, etc.) and there are lots of big tables so it's a good place to co-work with friends over food and drinks. There's also a big patio that's nice when the weather's good.
Internet speed: 228 mbps down, 133 mbps up
Exploring Jordan
I enjoyed my time in Amman and the little routine I developed there but, arguably, the best thing about the city for nomads is how easy it is to use it as a jumping off point for seeing the rest of Jordan.
I spent one weekend in Amman proper, did a little exploring before work during the week, and I feel like that was enough for me to see what I wanted to see. If you're not working, you could do it all in 2-4 days.
The main highlights in Jordan are the Dead Sea, Petra, Wadi Rum, and Aqaba. And, thanks to the country's small size, you can do it all in 4-10 days, depending on your preferred travel speed.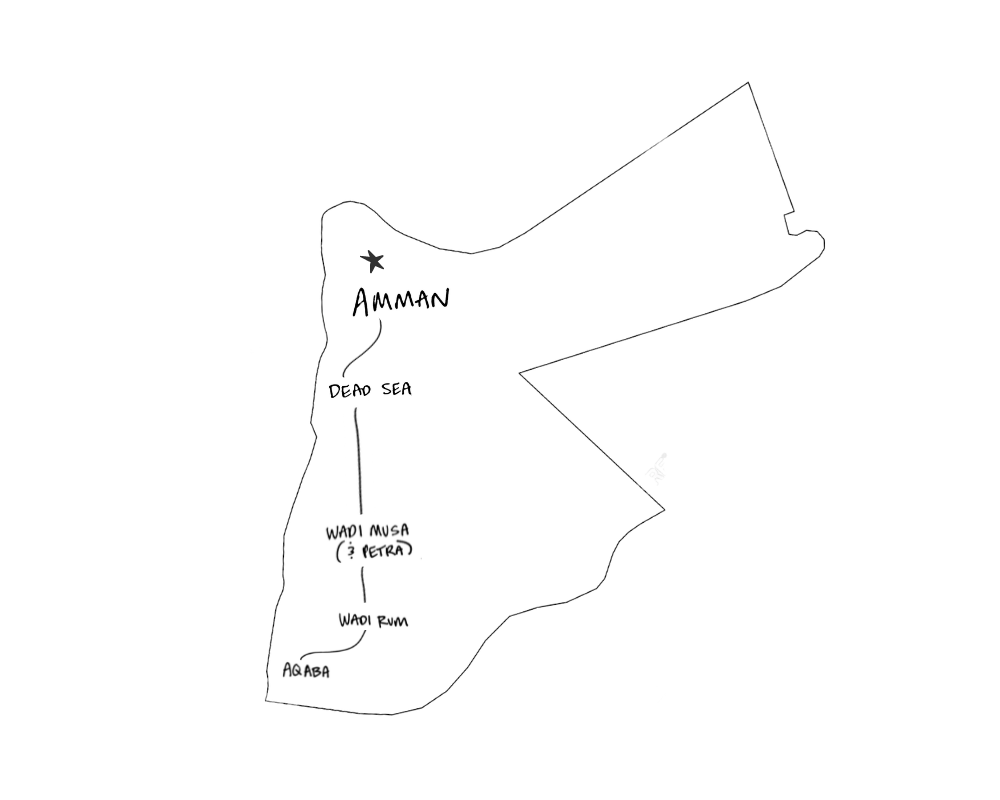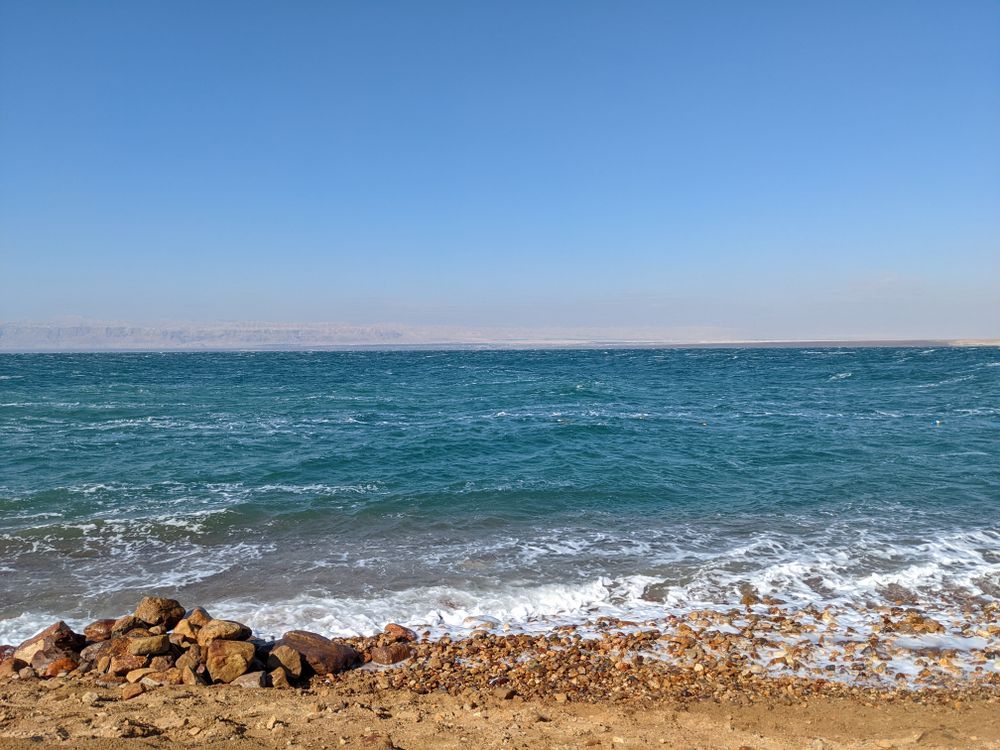 Dead Sea
The Dead Sea is only an hour from Amman so you can easily do it as a day trip, over a weekend, or just as the first stop on a longer excursion. (Most folks go on to Petra, Wadi Rum, and Aqaba from here.)
Floating in the Dead Sea, sun bathing, and playing in the mud are really the only things to do so you don't need more than a day. I decided to make a spa weekend out if it by driving down on Saturday. I enjoyed my hotel's pool and spa, spent the night, and then did the whole Dead Sea thing before driving back to Amman on Sunday.
Most of the hotels are large resorts owned by American brands (Hilton, Marriott, etc.) and they all have private beach access but there's a public beach too.
Pro tips — Wear water shoes (most hotels provide them) and a dark-colored bathing suit. And rinse off immediately after you get out of the water!
Costs — A private car from Amman to the Dead Sea shouldn't cost more than 20JOD. You can ask around to find a local driver or just take a normal taxi.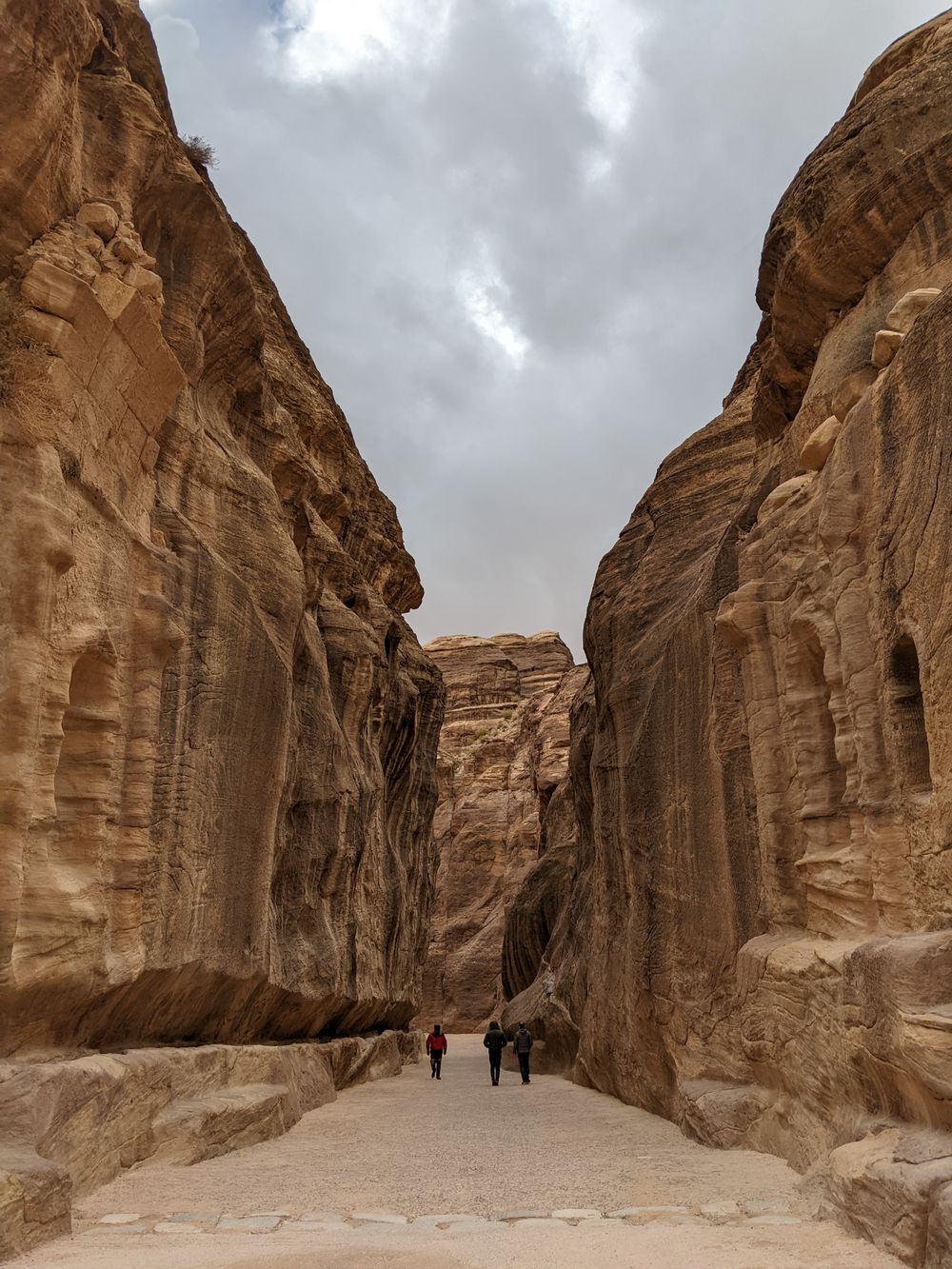 Petra
Petra is an ancient city turned archaeological site and its status as a Wonder of the World is very much deserved. I can not recommend it more highly.
Wadi Musa is the city closest to Petra and it's about three hours from both Amman and the Dead Sea. The city is bigger than I expected so there are lots of hotels to choose from. I opted for the family-owned Town Season Hotel, which was great. It was 55JOD and included breakfast and a shuttle to/from Petra.
We spent about ~5 hours at Petra with a private guide and, since I'm not much of a climber or hiker, that was the perfect amount of time for me. If you want to explore more, I'd opt for spending two days here. (Especially since the entrance pricing makes that more affordable.)
Either way, make sure to stop by Sajiat Al Janoob in town afterwards for a mixed grill with lamb. They make it fresh and it was probably my favorite meal in Jordan!
Costs — A private driver from Amman or the Dead Sea shouldn't cost more than 65JOD. If you want a guide for Petra itself, you can ask your hotel to call one or just get one when you get to the site—they all cost 50JOD. (Ultimately, I'm really glad we went with a guide because I don't think I would have appreciated it as much otherwise.) The entrance fee to Petra is 50JOD for one day or 55JOD for two days, and so on.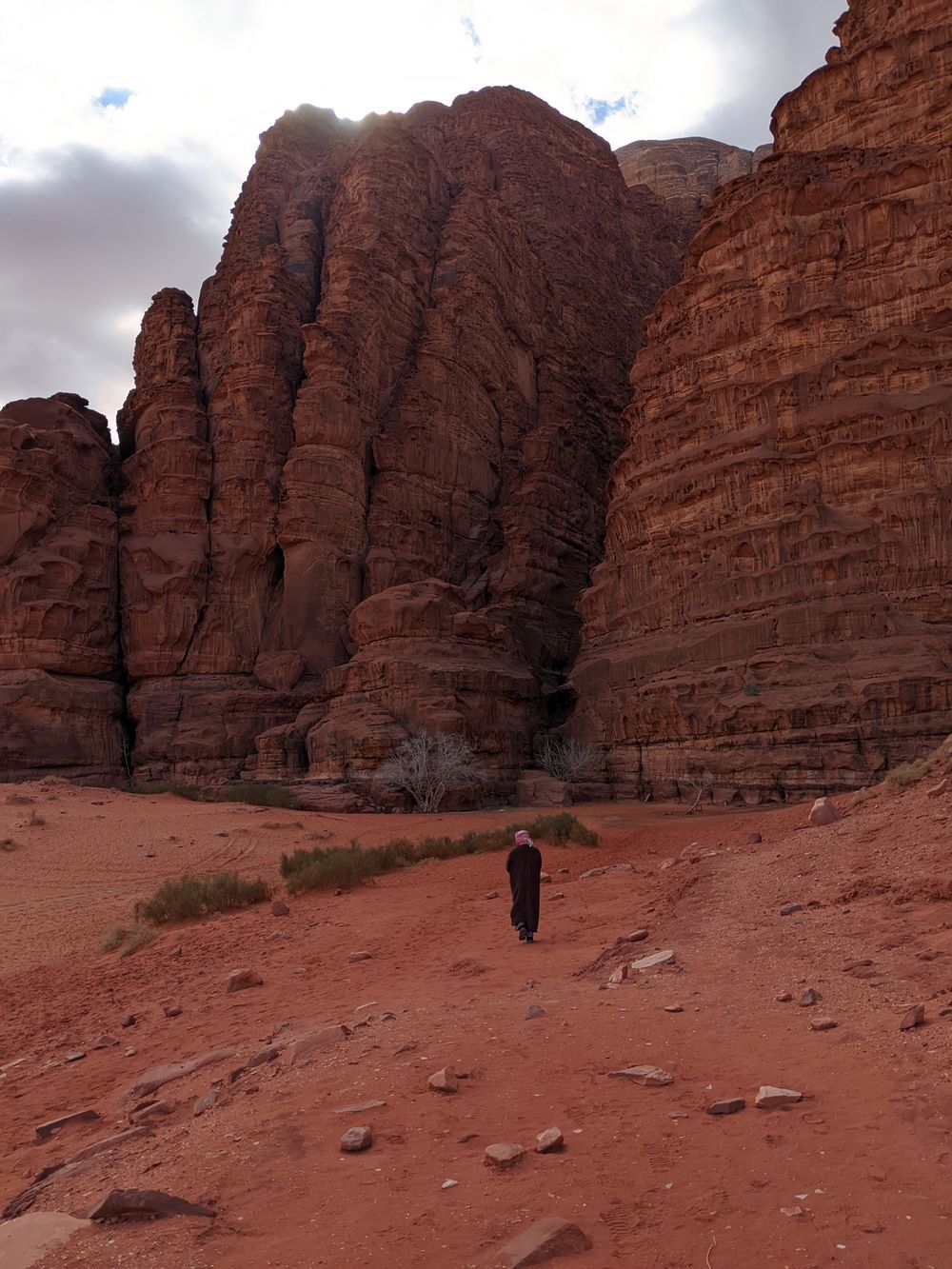 Wadi Rum
Wadi Rum is a desert with surreal landscapes, archaeological sights, and lots of opportunities for climbing some truly wild rock-faces. Many Bedouins still call it home, and they are the only ones allowed to drive vehicles and give tours of the area.
It's popular to spend the day exploring in the back of a truck, with a break for a home-cooked lunch and lots of climbing (if you're so inclined). Then you can spend the night under the stars in a traditional Bedouin-style camp or a more ritzy dome-shaped tent.
I went through Wadi Rum Nomads and I definitely recommend them. It was 70JOD for the whole package - guided tour, lunch, dinner, and simple but nice lodging. They have a lot of ethical and sustainable practices that I really appreciated and they are legit so freaking organized. (My bar is high and they cleared it.)
Costs — Our private driver from Petra cost 45JOD. There's a 5JOD fee to enter the area, and the whole tour/lodging package was 70JOD. We also tipped the guide and cook at the end.
Aqaba
Aqaba is a coastal city in southern Amman that's popular for glass-bottom boat tours and water sports. It makes for an easy last stop on the Amman > Dead Sea > Petra > Wadi Rum route so most tour operators will actually assume that's where you're headed after Wadi Rum.
I opted to skip Aqaba after some initial research. I had planned my trip to the other spots over a long weekend and it didn't feel worth extending it further. Especially since it was a bit too cold for any of the beach time or water sports that the area is known for.
I don't feel like I missed out on anything by skipping Aqaba... but I'm also not sure I'll go back to Jordan so I kind of wish I had done it just to really check all the Jordan boxes. 🤷🏻‍♀️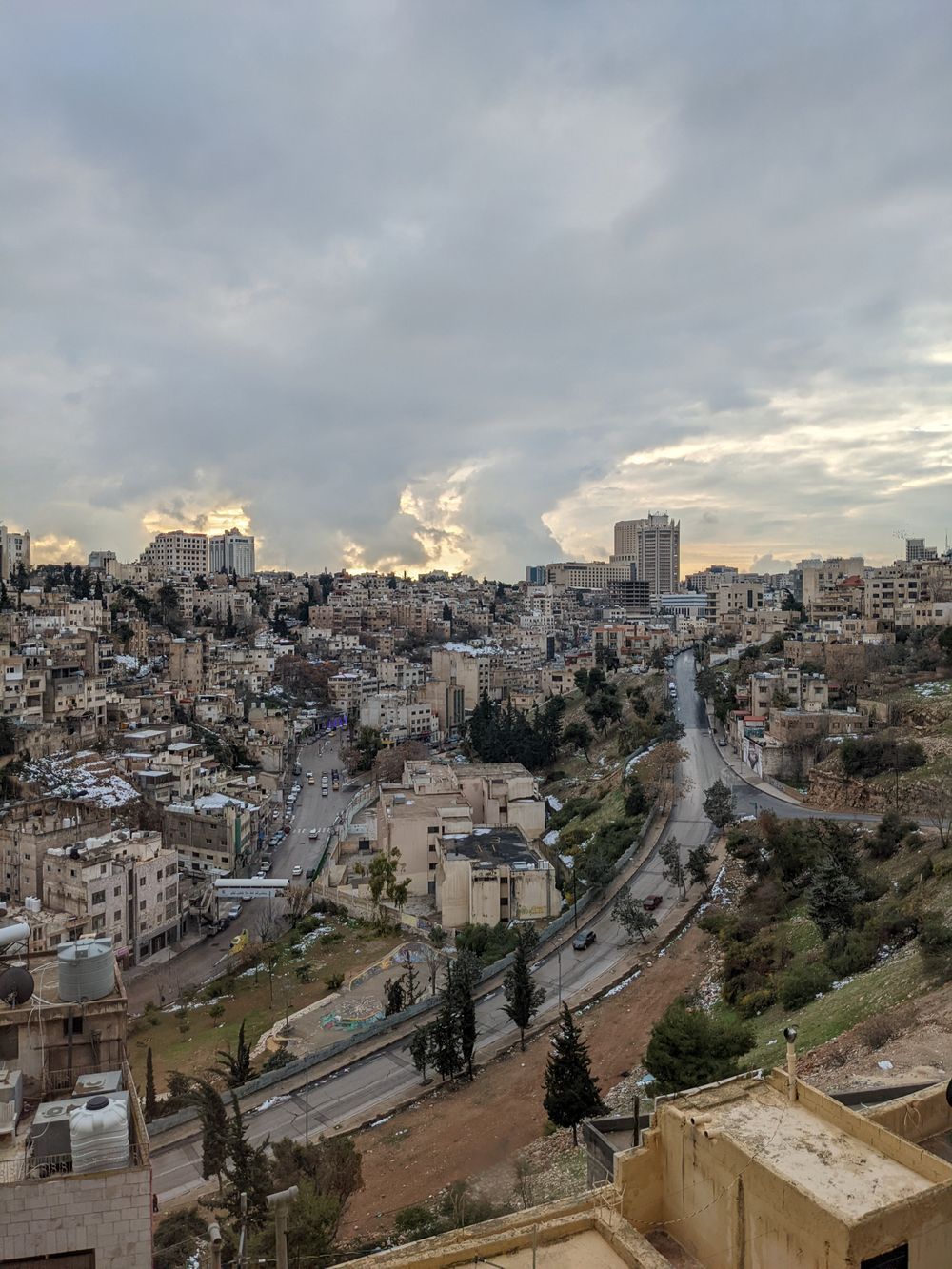 Other Things to Note
As of January 2022, Jordan has strict entry requirements for most travelers. As someone traveling on a US passport, I was required to (1) show proof of vaccination, (2) a negative PCR test taken within 72 hours of departure, and (3) to take a PCR test upon arrival. You need to register and pay for the PCR test before your flight so you can generate a QR code to show them upon arrival.
If you plan to do any sightseeing, it's definitely worth it to buy the Jordan Pass before you arrive! It's 70JOD and includes your tourist visa (40JOD) and entrance to a bunch of sights like Petra (50JOD & up), Wadi Rum (5JOD), as well as museums and ruins in Amman.
You can take a ride share to/from the airport, but your Airbnb or hotel will likely offer a private driver too. The cost for this should be 15-20JOD and, in my experience, it's worth doing it at least upon arrival. It's standard for the driver to give you a little lay of the land on the way into the city, and they're happy to make stops for dinner/groceries, cash, and a SIM card, if you need it.
Drivers are easy to find through your accommodation or a local's recommendation. Once you find one you like, you can have them take you anywhere you want to go outside of the city. I've included approximate costs throughout this post and it's expected that you will negotiate to get to these prices. (I DIY-ed all my side trips using private drivers and got a much better experience for roughly the same price as a huge tour group, imo.)
More Recommendations
You can use Uber or Kareem to get around the city, especially when the hills get the best out of you. Most of my rides were between 1-3JOD.
Talabat is the go-to app for food delivery, although Kareem has options too.
I wasn't blown away by the food in Amman but did enjoy trying all the shawarma, humus, and falafel everywhere. The famous local spots that you have to try are Al Quds Falafel and Hashem Restaurant. I also liked Sufra and Jordan Heritage for dinner and Go Mashawi for lunch.
People will advise you not to bring up Israel at all, but I think better advice is to just tread carefully. I learned a lot by talking about it with people who are more educated on the topic than me, but some people do not want to talk about it and will immediately clam up.
TL;DR
Jordan is absolutely worth a visit. People are friendly and welcoming to foreigners, the city is super safe, and there's an incredible amount of natural beauty to see.
I recommend that nomads spend 2-4 weeks in the country, using Amman as a home base. The city has its charms but there isn't a whole lot to see and do in the city itself. Depending on how much you plan to work, you might be bored. If you like to go go go, err on the side of less time.
If you're just going on vacation, then I think 1-2 weeks is the perfect amount of time to see everything at a leisurely pace. Anything more is likely overkill for most people.
Caro Griffin Newsletter
Join the newsletter to receive the latest updates in your inbox.