Kigali, Rwanda
Rwanda is unlike any other country I've been too, and I loved my month in Kigali. Here's everything you need to know to make your own trip!
Rwanda was not somewhere I planned to travel to this year.
I wanted to explore east Africa at some point, but it wasn't a high priority. And I didn't not want to go to Rwanda, but it's not an easy or cheap place to get to, and I didn't know much about it.
But an opportunity to go to Kenya with another group of nomads came up, and then a good flight deal to Kigali appeared and, before you know it, all my summer plans had been thrown out for three months in east Africa.
I ended up spending all of June in Kigali and, like Amman, it was a dark horse trip that really jumped to the top of my list this year.
Since it's not exactly a hotspot for remote workers, it took a bit more effort to get the lay of the land. I feel like I was just starting to "figure it out" when it was time to leave, so I've rounded up all my advice for anyone else who wants to make the trip. Hope it helps!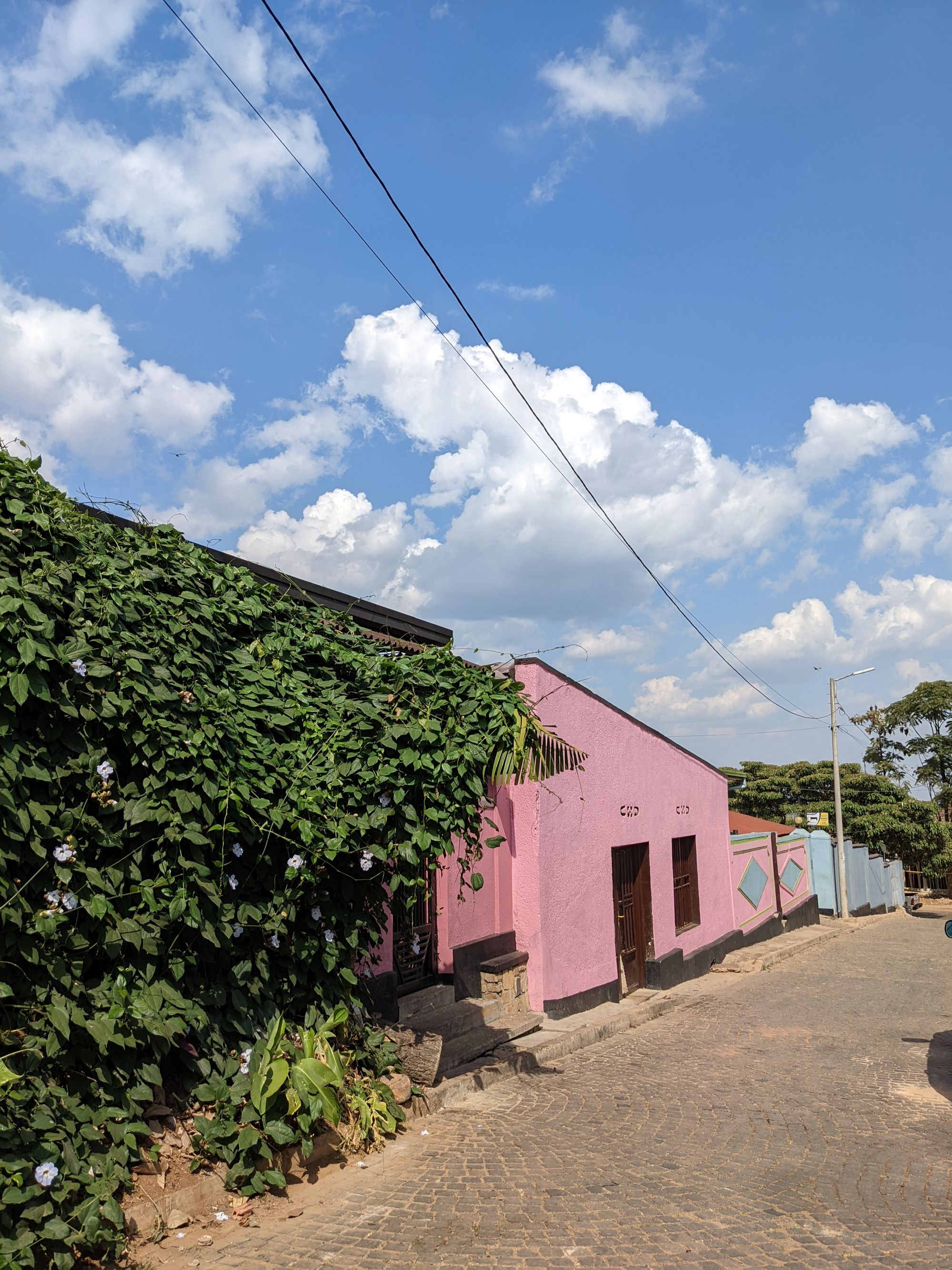 Where to stay in Kigali
Kigali is one of the few places I've ever been where I don't have a strong sense of where to stay before or after the trip. It's a small, sprawled city without many distinctive neighborhoods so, even after spending a month there, I still don't have a clear answer to, "Where's the best place to stay in Kigali?"
I did a bunch of research before the trip and got mixed suggestions because it's not a place that people commonly go to for a month. It's mostly tourists on vacation or ex-pats working at an NGO, and they both need different things than I do.
I ended up in Kacyiru, which was a pretty good choice. Turns out, it's mainly known for housing the US Embassy and a lot of NGOs. It's safe, quiet, fairly central, and technically walkable. I prefer denser neighborhoods with restaurants and shops, and a bit more character, but I didn't come across another neighborhood during my stay that felt like a more obvious choice.
If I was to go back, I would probably stay in Kacyiru again, or see what I could find in Nyamirambo. The latter is denser, with more character and a local feel that I like, but it's less centrally located and my hunch is that there aren't nearby spots for working, or many Airbnbs that have western amenties.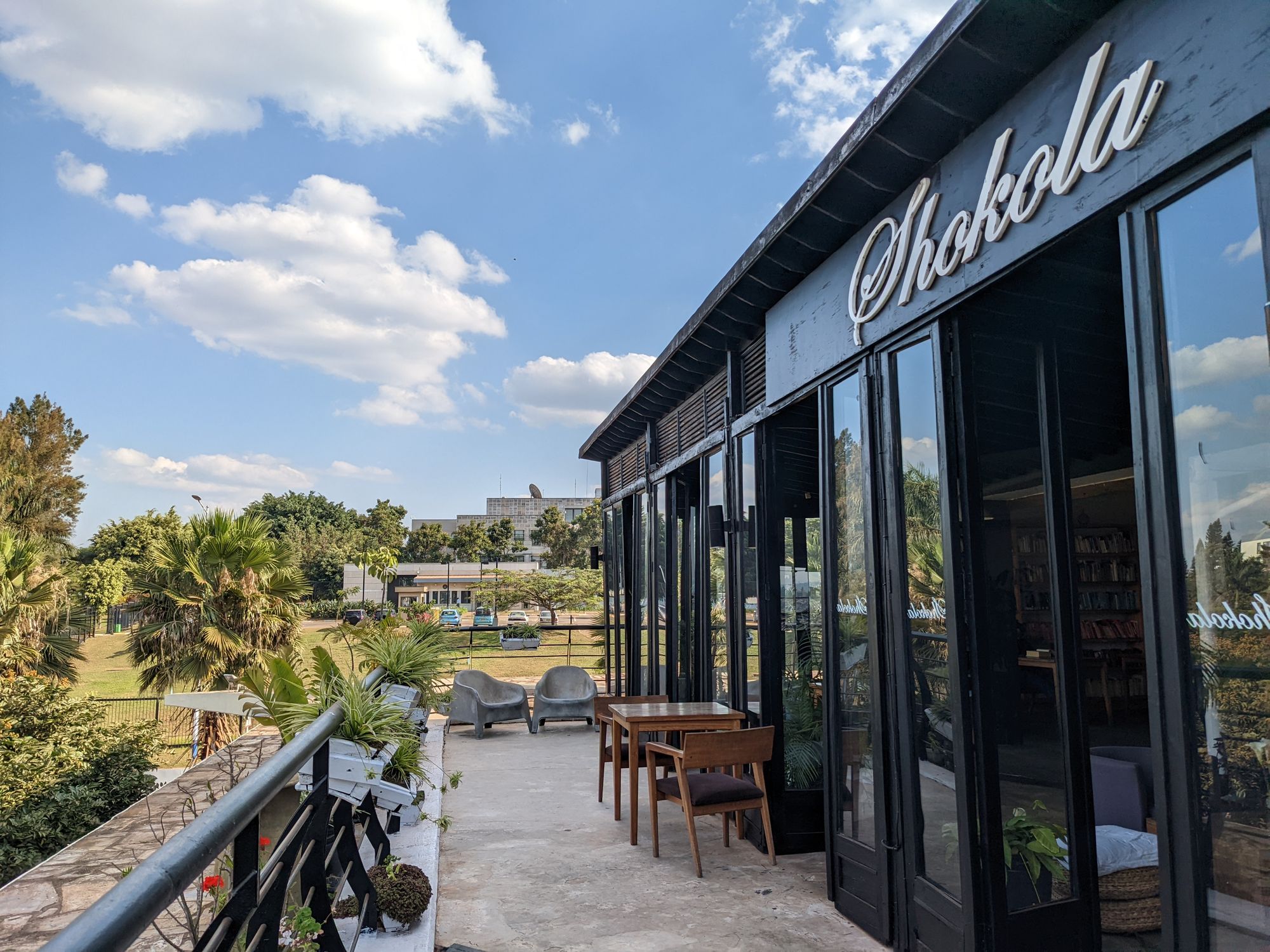 Where to work in Kigali
Kigali has fast, reliable wifi but it's not widely available so you can't bet on finding it just anywhere.
Regardless of whether you prefer to work from home, a cafe, or a coworking space, I'd recommend (1) getting a speed test before you book accommodations and (2) buying a local SIM card with a lot of data.
Coworking Spaces
WAKA (5:30a-10p on weekdays, 8a-9p on weekends)
WAKA is a unique coworking-gym hybrid with two locations in downtown and Kimihurura. I paid ~$8 USD for a day pass to drop into the downtown location one day when I was in the area and needed a spot to record a podcast.
My general feeling is that it checks all the boxes. It's affordable, there's plenty of space, the wifi is good, and the staff is pleasant. I wouldn't order food or drinks from the cafe and expect anything particularly special from the ambiance, but it gets the job done. If you're someone who prefers working from a coworking space, this is a good option.
My only real complaint is that the call booths and meeting rooms are not sound proof... which isn't normally a big deal, but can be when there's a gym playing loud music in the same space. (Krisp to the rescue!)
Impact Hub (8a-9p; closed on Sundays)
The chain of popular coworking spaces has a location south east of downtown.
I tried to work here one day, but was told it was full. So I don't have much to say about this one! Other than that it seems like a pretty small, simple space.
Unless you need the privacy of call booths or just prefer a more office-y environment, I'd suggest working at Ikawa Cafe on the building's roof instead. (See full review below.)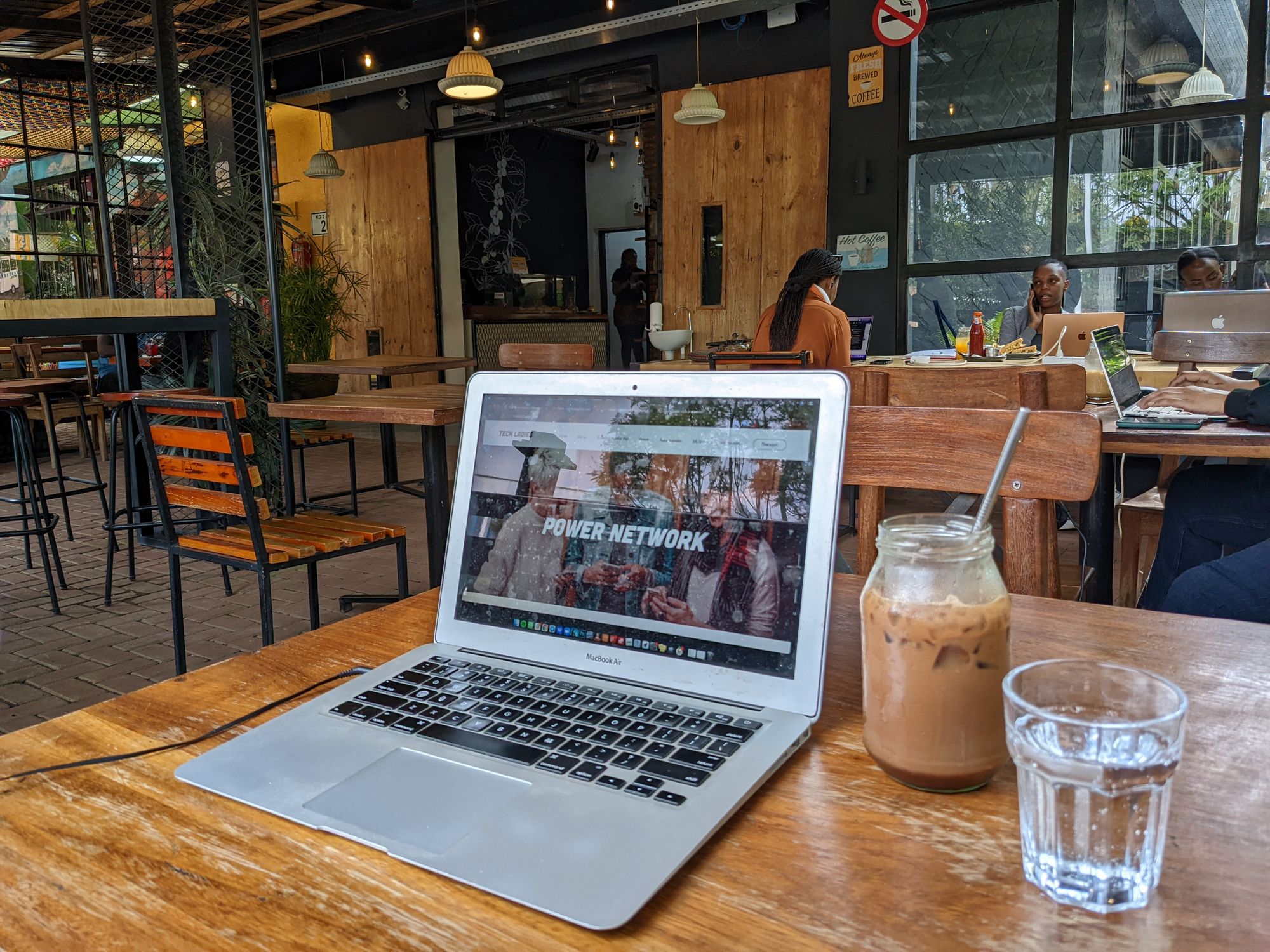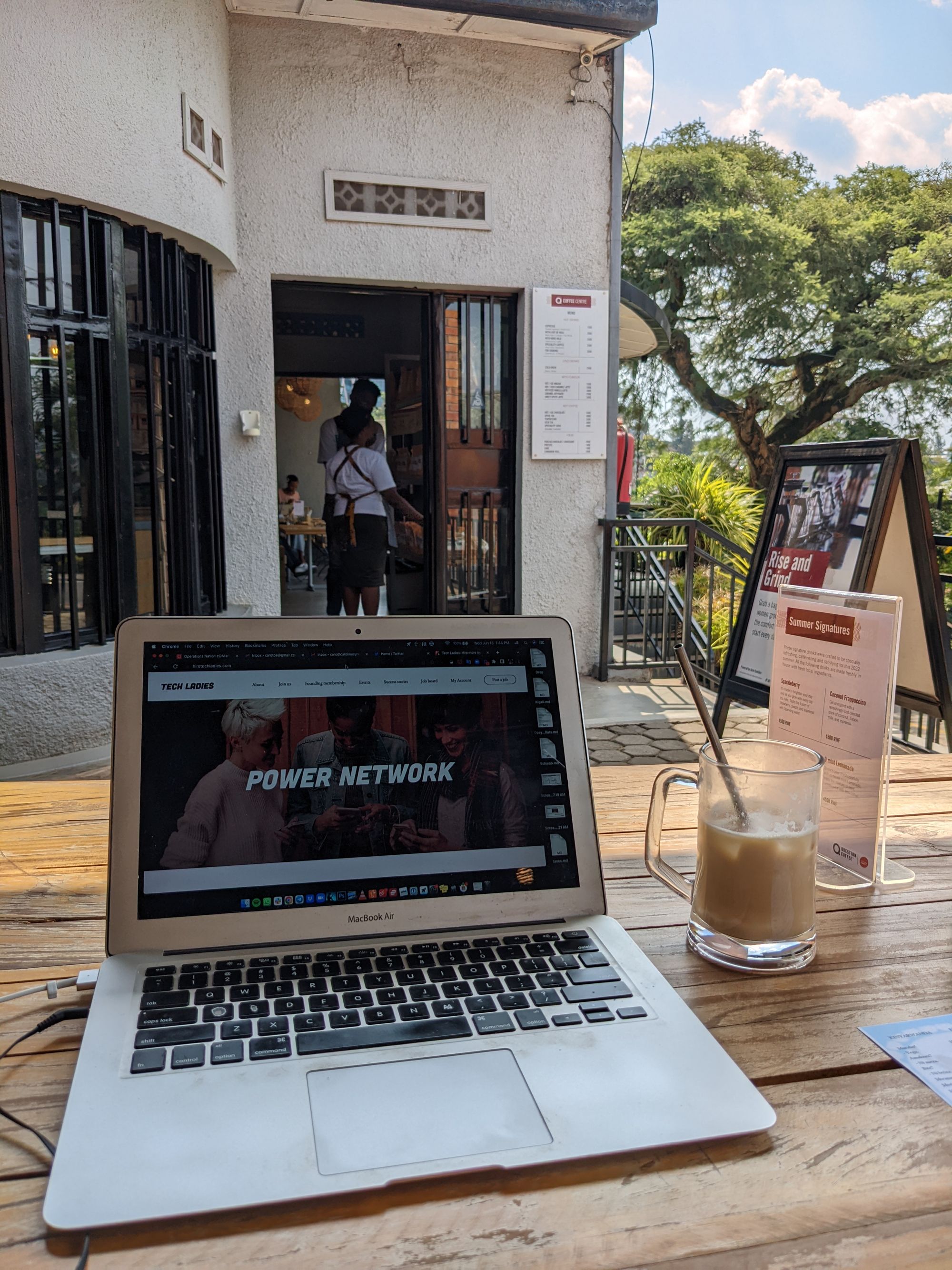 Cafes
One of my favorite ways to explore a city is through its coffee shops.
I'm most productive in a cafe environment so I like to find options in different parts of the city so I can explore a new area, people watch, and try new foods and drinks all at the same time. Some cities make this easier than others, but I can usually find a couple options.
Kigali is no different but, to level set, the cafe wifi is usually good enough for general work, but not good enough for video calls.
One way around this is to get a local SIM card as a backup. MTN is the most popular provider. They have locations all over the city and they're really affordable. (I paid ~$20 USD for 30GBs.) Just make sure to take your passport to the store with you!
Now, for the cafes that I made my office...
Rubia Coffee Roasters (7a-8p weekdays, 8a-8p weekends)
This proved to be my favorite work spot of the bunch! It's fairly central, with lots of open-air seating options inside and out. The menu is larger than at most spots—and both the coffee and food are great. (I was a fan of the African tea and the chicken curry croissant. 👌🏻)
The wifi is fine for general work stuff but it tends to slow down as the space fills up around 3pm. Bring a local SIM for tethering if you plan to take a call.
Question Coffee (7a-6p weekdays, 8a-5p weekends)
Arguably, the best coffee in town! Question is a women's cooperative that does great work. They host coffee tastings, as well as a day-trip to their farm a few hours outside of the city. The cafe doesn't have inside seating—just two covered patios and a front yard—but it's a lovely atmosphere and there are outlets everywhere.
It's this ambiance and the quality of the coffee that are the draw here. The wifi is passable, but not good enough for bandwidth-heavy tasks like video calls. And it gets pretty full in the afternoons so expect to share a communal table, or start out in a less ideal armchair or counter while you wait for a table to open up.
The food menu is also limited to a few baked goods and, when they're gone, they're gone. Eat before you go!
Internet speed: 6 mbps down, 9 mbps up
Inzora Roodtop (8:30a-8p weekdays, 10a-6:30p weekends)
Inzora is a well-known bookstore with a great collection. (There were soooo many books I wanted to buy!) The back corner and small rooftop are dedicated to its cafe, but there are only a few tables in each area. This makes it a better fit for shorter, solo working sessions.
The coffee is pretty good (because almost all the coffee in Rwanda is at least pretty good) and there's a small food menu with unique (albeit small) options that you won't find elsewhere. Definitely worth at least one working session on your trip.
Internet speed: 10 mps down, 26 mbps up
Shokola Cafe (7:30a-6:30p, closed on Sundays)
This cafe is on the roof of the library so it comes with lots of natural light and stunning views of the city. Definitely one of the prettiest spots to work from!
The internet isn't the fastest, but it's reliable and fine if you're not taking calls. The menu has a variety of coffee, tea, and smoothies, as well as good food options.
Internet speed: 7 mbps up, 8 mbps down
Ikawa Cafe (8a-7p weekdays, 9a-5p Saturdays, closed on Sundays)
This airy cafe is on the roof of ImpactHub, a local branch of the international coworking brand. It's covered on three sides, with a stunning view of the city, and a number of big tables that are perfect for coworking.
They have a weirdly small coffee menu, a few food options... and more than a dozen cocktails. 😂  The staff was super welcoming and gave me the coworking space's wifi password without being asked so I'm not sure why you'd work from ImpactHub instead unless you need a call booth or complete quiet. I took calls here without needing to use my hotspot. I only wish I had discovered this spot earlier in my trip!
Internet speed: 11 mbps down, 28 mbps up
Ikawa Kafe (8a-8p every day)
Not to be confused with the almost identically-named Ikawa Cafe above, this restaurant/cafe was almost empty when I visited. Because it's more of a restaurant, they have a full food menu, including some great brunch options. And, because it's run by two expats from Atlanta, those options include fried chicken and red velvet waffles. 👀
The staff and owners were lovely, and even gave us a "welcome gift" of delicious, homemade cookies to go. If I had spent more time in Kigali, I think I would have become a regular.
Internet speed: I forgot to test it but three of us took calls at the same time with no issue.
Brioche Coffee (7a-9p every day)
Brioche is a local chain with a couple of locations around Kigali. I worked from the Kacyiru location, which I enjoyed. There's a handful of tables inside and a nice, enclosed patio too—with a great view of a parking lot. 😂
They specialize in baked goods but there's also full menu of breakfast items, sandwiches, wraps, and so on. The coffee and food aren't as good as some other spots, but it's fine and finding a Brioche is a reliable option when you're in a new neighborhood and don't want to risk a new spot.
Internet speed: 5 mbps down, 5 mbps up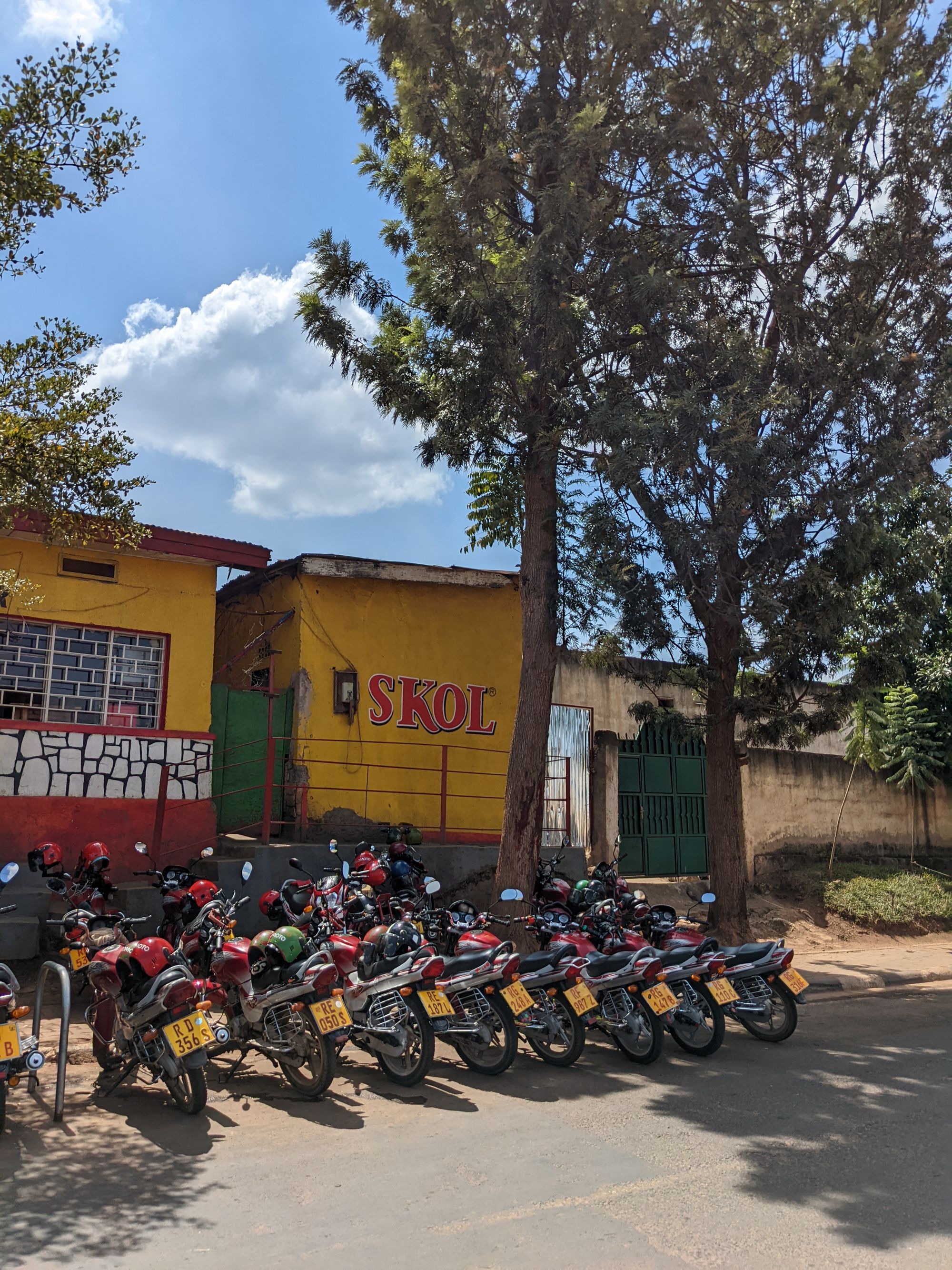 Getting Around Kigali
Kigali is not the easiest city to get around without a car. It's technically walkable but things are spread out, walking paths are circumvent, and the hills add an extra challenge to even short journeys. It's not uncommon for a 5-minute drive to be a 30-minute walk.
For this reason, you'll likely want to get comfortable taking moto taxis or finding drivers that you can rely on when needed.
Ridesharing in Kigali
Uber doesn't work in Kigali but there are two local apps that you can use for getting around:
Yego has moto-taxis and regular cabs.
VW Move is a similar service with nicer rides (all Volkswagens) but it can take longer and requires a local SIM to activate.
I had mixed feelings with both services. Drivers have no problems picking up fares on the street so they're not really incentivized to use the apps, which means your wait time is usually 15-20 minutes (when they're available at all) and the ETA is rarely accurate.
It takes lots of patience, which often outweighs the convenience. Especially since the drivers don't follow the in-app directions anyway.
Hailing a ride in Kigali
As much as I wanted the convenience of an app, it proved much easier to just go outside and wait for a moto or taxi to drive by. No matter where I was in the city, it didn't take more than 5 minutes to find one.
Moto taxis all look the same—the drivers will be wearing a red vest, driving a red bike, and carrying an extra helmet. Traditional taxis are sometimes marked, sometimes not, and rarely have a roof light.
Both types will slow when they see you loitering on the side of the road. Just throw up a hand to indicate that, yes, you want a ride, and they'll pull over.
There's some trial and error in comfortably riding a moto taxi if you haven't done it before, especially in Kigali where drivers won't use their phone to navigate.
Here are some pro tips:
Drivers don't use maps or addresses. They navigate by landmarks, and with your help. Your best bet is to show them the name of the neighborhood or nearby landmark on your phone. If they still look hesitant, you can show them the exact location but it's usually more effective to just say you'll show them the way and then use your phone for directions.
Most drivers will only speak a few words of English. Once they get close to the neighborhood or landmark, they'll indicate they need help. You can use your hand to direct left, right, or straight over their shoulder—they're used to this.
Get on and off the bike on the left side. This is where the kickstand is and what the driver will expect, so his and the bike's weight will be tipped in this direction. You'll also save yourself a potential ankle burn.
Most rides will be 500-1,000 RWF (<$1 USD). I usually just handed them a 1,000 bill, paused to see if they reached for change or more money, and then went on my way. Some rides will cost 2,000 RWF if they're further away, involve a rerouting, etc. but that's really the max. Anything beyond that is definitely a foreigner uncharge—go with it, or hold out your hand and look stern to the get the change you're due. Most drivers are not trying to hustle you.
Finding a regular driver
If the idea of riding a motorbike or giving directions stresses you out, you can get the number of a couple regular drivers and WhatsApp them when you need a ride.
Your hotel or Airbnb host can certainly provide you with names and numbers, as can any doorman. And, if you like someone that you hailed on the street, you can ask for their number too.
The doorman at our Airbnb saw me waiting for a Yego my first week, called his friend to pick me up, and we ended up using the guy a few times during our trip.
I would send him our location 20-30 minutes before we wanted to leave via WhatsApp. These rides costs a few dollars more (think $5-7 USD vs $1-2 USD) but it can be worth the convenience, especially if you're with friends and don't want to wait for multiple motos.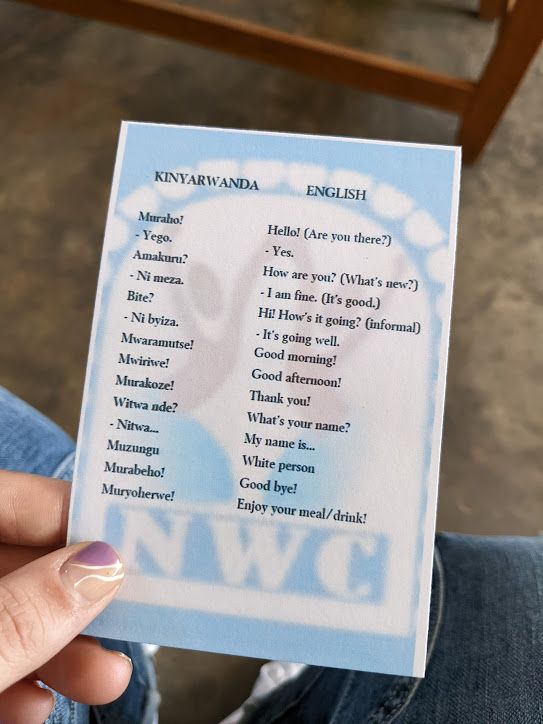 Things to Do in Kigali
Nyamirambo is a very cool, middle class neighborhood just outside of the city's center. It's home to a large part of Kigali's Muslim population, as well as markets, bars, and local amenities like hair salons, milk bars, and the like.
The Nyamirambo Women's Center, which has a huge presence in the neighborhood, offers a great walking tour for just $15 USD. Our guide Mary kicked things off with a brief introduction to the neighborhood and the center itself, as well as a short language lesson that was super helpful for being able to say hello and thank you to the locals we interacted with on the tour itself. (She even gave us a little cheatsheet that came in handy for the rest of my trip!)
I learned a lot about Rwanda, Kigali, and Nyamirambo on this tour - in addition to seeing lots of cool spots in the neighborhood - so I highly recommend it. You can also choose to stay for a delicious, home cooked lunch after the tour with Aminatha ("the neighborhood's best cook"), which I definitely urge you to do.
The Nyamirambo Women's Center also offers a cooking class with Aminatha, the same local chef that cooks for the walking tour groups. I highly recommend it!
Aminatha cooks an elaborate, home-cooked meal from scratch every day. It takes a few hours! You help her chop everything, cook everything, and then you get to enjoy the fruits of your spoils. She also sends you home with a little cookbook to remember her recipes, which are simple but delicious.
Pro tip: Aminatha will let you buy containers from her and pack up some leftovers for dinner. We did this both times we visited. 😆
Go Kigali is a local tour operator that offers a full-day tour of the city. It's what I always think of as a "nutshell" tour.
If you only have a few days in Kigali, it's a great way to get the lay of the land. The tour is done in a car so it's a much easier way to see all the main points of interest than trying to walk or fuss with a bunch of cabs.
Our tour guide was Desiree and she was knowledgeable about the country's history, and super down to answer any questions we had. I learned a lot!
Coffee is Rwanda's biggest export and a big part of the economy so exploring the coffee scene is definitely a thing to do on your visit.
Question Coffee is a local women's co-operative that produces some of the best coffee in the country. They offer a "master class" at their local cafe, as well as a day-trip to their farm. The latter is about two hours outside of the city so it's a great way to see a little more of the countryside, as well as their growing and roasting operation up close.
It's not cheap—with round-trip transport, you're looking at ~$300 USD—so I passed on the opportunity, since I've done a lot of coffee tours in other places. My roommate and travel buddy, however, used to work in speciality coffee and never turns down the chance to spend her day immersed in it. She had a great experience so, if you're a true coffee fan, it's probably worth it!
This is not an easy visit, but it's one that I think is a must-do on any trip to Kigali. Rwanda was forever changed by the genocide in 1994 and it shaped the country and in its people in undeniable ways. Learning what happened—and why it happened—will give you so much more context for the country and its culture.
Do yourself a favor and don't make hard plans after your visit. There are graphic photos and videos, and the personal stories are as horrible as you expect them to be. I went with a friend and neither of us were up for doing anything after.
Azizi has a great collection of crafts from local artisans that you can buy... but you can also make your own! Each day has a different activity, such as candle making, basket weaving, pottery making, etc. You can show up at any time and they'll walk you through the activity.
A friend and I stopped by on a Wednesday to make our own tassel garlands. There wasn't anyone else there so we had a private little demo in the middle of the store. It was the perfect pre-work activity.
The cost varies by activity but ours was less than $10 USD.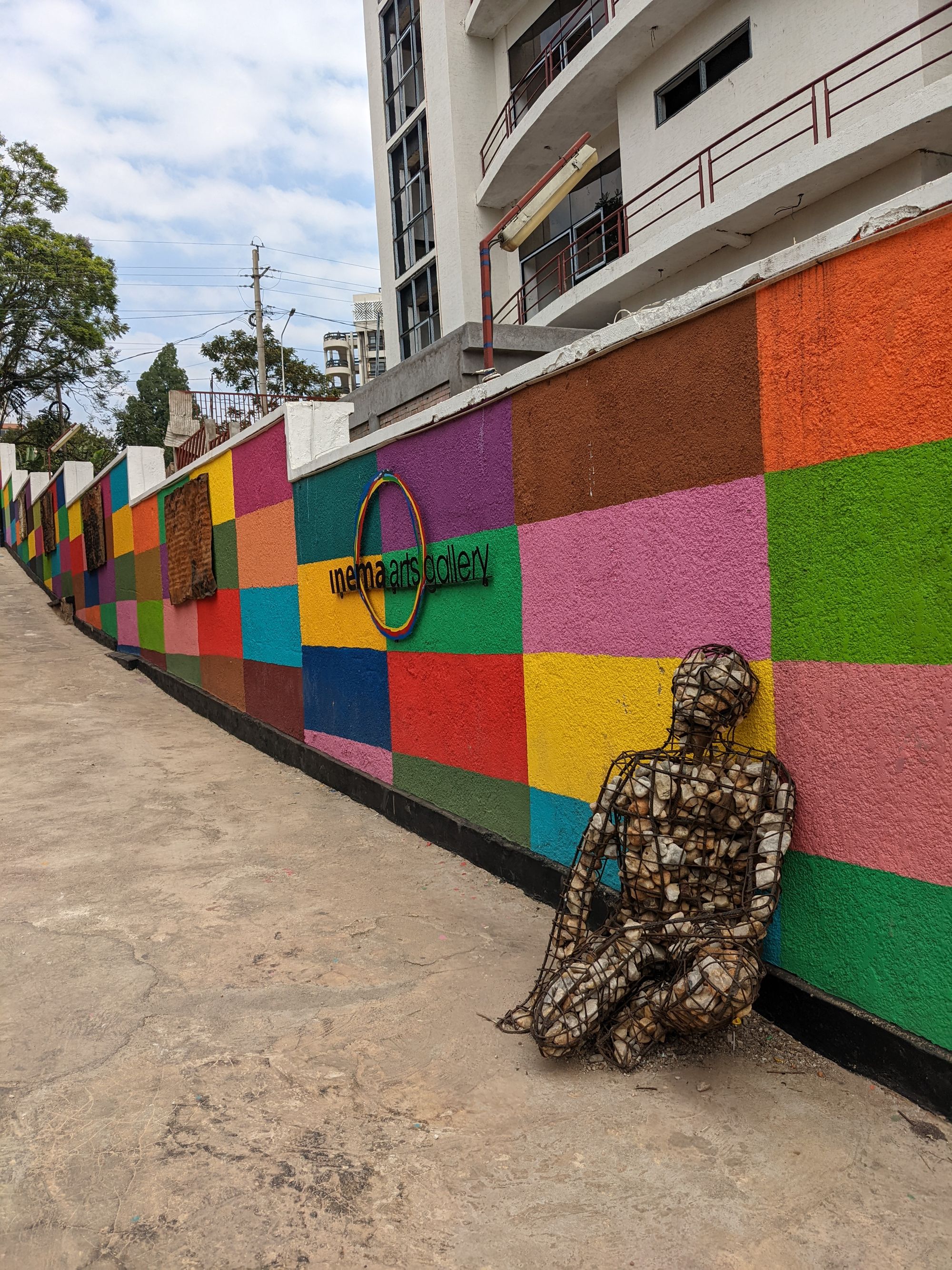 Art Galleries
There are a number of great art galleries throughout Kigali, a number of which are in and around Kacyiru. Here are a few of my faves:
Inema Arts Centre is a cultural center that puts on workshops and events. Their gallery is free and features world-renowned Rwandan artists. When I stopped by, two of the three exhibiting artists were just hanging out and it was great to chat with them. They have a cute little cafe on site too.
Niyo Arts Gallery is another local gallery and cultural center that does a lot of work with street kids in the neighborhood. There is so much amazing art work on display here, mostly by up and coming local artists. The price point is more affordable so my roommate and I ended up buying two paintings from Moses Izabiriza that we're obsessed with. 🥰
Inshuti Art Gallery is small gallery in the same area that also has an interesting collection. I didn't make it there before I left, but friends said good things!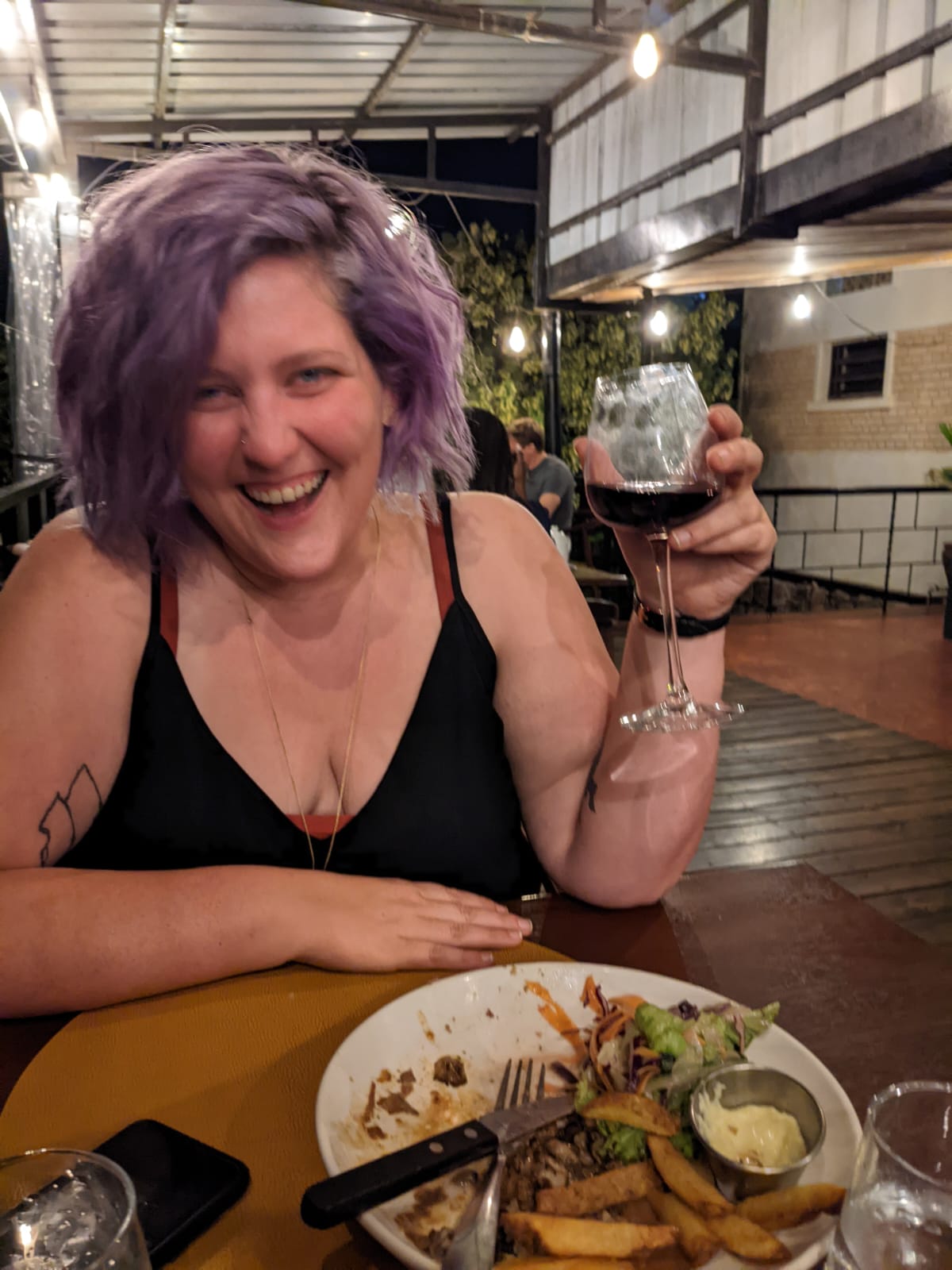 Places to Eat in Kigali
The food scene in Kigali is pretty simple. When I think back to what I lived off all month, it was mostly cafe sandwiches, grocery store takeaway and Indian delivery.
Traditional Rwandan food, from my perspective, skewed towards simple but labor intensive vegetarian dishes at informal restaurants, and take away spots. Many of the nicer restaurants were French. I ate well but there wasn't much that I wanted to write home about.
The exceptions were the take-away samosas at this supermarket, the traditional vegetarian food we made in the cooking class (see above), and a western-style brunch at Heaven Restaurant.
More Recommendations
Go to a milk bar. It's a whole thing! And exactly what it sounds like—a simple little "bar" with a fridge full of fresh and fermented milks. Every neighborhood has a few of them, and they're a mainstay of Rwandan culture. A glass of fermented milk is a typical lunch for a lot of locals.
Get custom clothes made. 👀 If you're staying more than two weeks, consider a a stop by Rwandan Clothing. They make beautiful stuff at prices that are reasonable for most Americans or Europeans. There's a small selection in the store itself, but the items are mainly meant to be an example. You can go through their catalogues to place a custom order, pick out your fabric, get your measurements taken, and come back a week or two later for a final fitting.
Bring a tote bag for groceries and shopping. Rwanda has banned plastic bags. If they find them in your carry-on at the airport, they will confiscate them and fine you. When I landed in Kigali, the pilot actually made an announcement about it and encouraged you to leave them on the plane.
Another Thing to Note
As a white girl with purple hair, I drew a lot of stares in Kigali.
I couldn't walk down the street without dozens of people openly watching me. And, even when I didn't clock it, people took notice.
I went on a tour with a guide who, upon meeting me, said, "Oh, you were were working at Question Coffee last week. You sat on the patio and had your hair in a little baby bun." 👀 😂
Despite this level of attention, it was super rare that anyone actually said anything to me. In places where I've drawn similar stares (like Morocco or Kenya), the looks went hand-in-hand with low-key harassment. But Rwandans are overwhelmingly polite and reserved. I've never experienced anything quite like it!
It was mentally taxing at times because I felt like I was on display every time I left the house, and I knew every dumb tourist mistake I made was being witnessed by someone, but it was also fine.
I traveled with a friend who said she felt similarly when we went out together but a lighter version when she went out solo. As a light-skinned Black woman, she didn't blend in either but she also didn't stick out quite as much.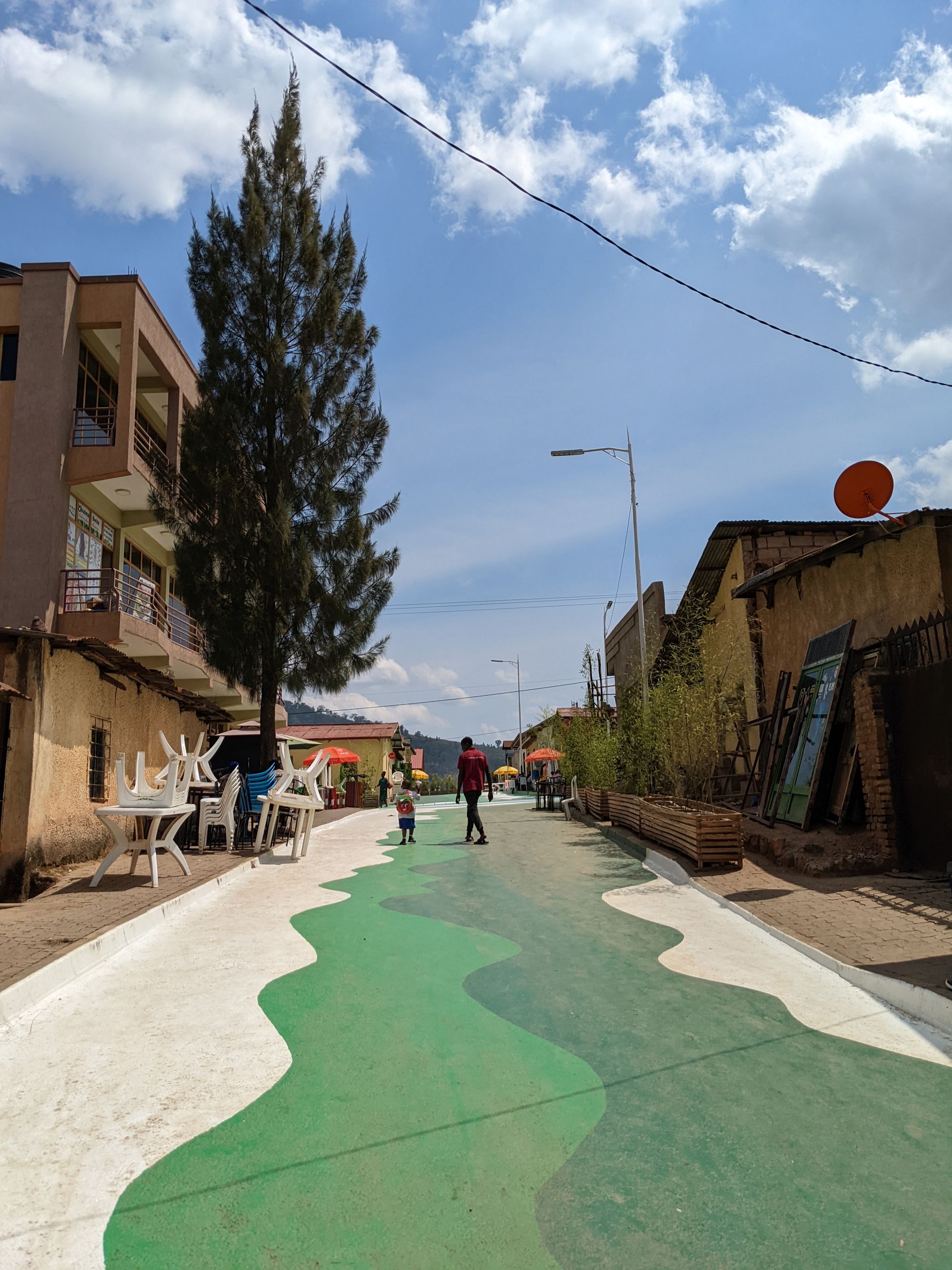 TL;DR
Rwanda is unlike any other country I've been too. I loved my month in Kigali and highly recommend making the trip yourself.
If you're on vacation, I don't think you need more than a week to feel like you thoroughly "saw" the place. (You could even get away with less if you like to move fast.) But, while it may not be a go-to nomad destination, I actually think it's a perfect destination for a certain type of remote worker.
If you're looking for a chill city where you can get work done, be immersed in a really unique culture, and do some minimal exploring, the pace of the place makes it a great choice.
Caro Griffin Newsletter
Join the newsletter to receive the latest updates in your inbox.