Isla Mujeres, Mexico
I spent Christmas in Isla Mujeres and it was a lot cuter than expected.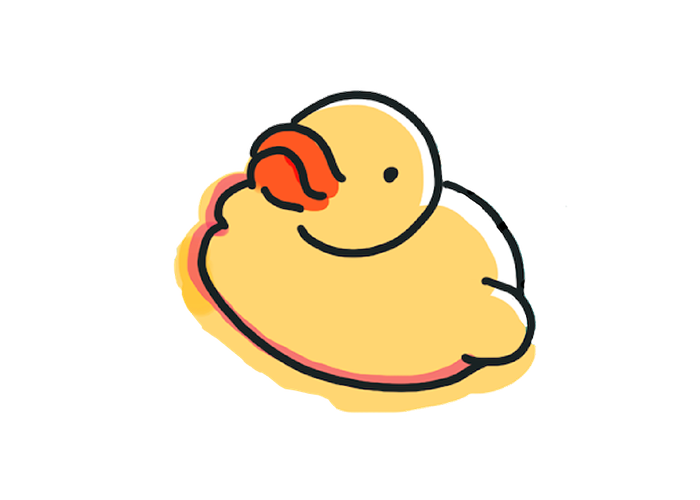 Some places I can't wait to go. Other times, I end up somewhere simply because a friend had stronger feelings than I did, or because the logistics made it the easiest option.
This year's Christmas plans were very much the latter.
My mom lives more than an hour from a midsized airport in Florida. She also has very limited vacation days. This means I usually see her twice a year for a couple days at a time and where we meet up is usually determined more by flight schedules and pricing than anything else. (And, also, her complete aversion to cold weather.)
Since I live in Mexico City, Cancun is one of the few places that we can both get a direct flight for a reasonable price and, so, Cancun it was for our recent Christmas meetup.
I don't love Cancun proper. It's all pricey resorts and chain restaurants and none of the things that actually make a place feel like Mexico to me. So we decided to fly into Cancun but spend our actual holiday in Isla Mujeres.
The trip proved to be pretty straight forward and really enjoyable so I thought I'd share my thoughts for anyone else interested in making the trip.
Getting to Isla Mujeres
Isla Mujeres, or the Island of Women, is a narrow little island right off the coast of Cancun. You can fly into the main airport and then take a taxi or shuttle to a ferry that leaves from a pier near the Hotel Zone.
I booked us a private transfer via CARM Transfers for simplicity. (In part because they provided us with the ferry tickets too and made the whole thing very easy.) The ferry leaves every hour or so and the trip itself is about thirty minutes, with two spacious decks and a rack for luggage.
Just make sure to check the ferry schedule before booking your return flight. It can be tricky to make early morning flights from Cancun!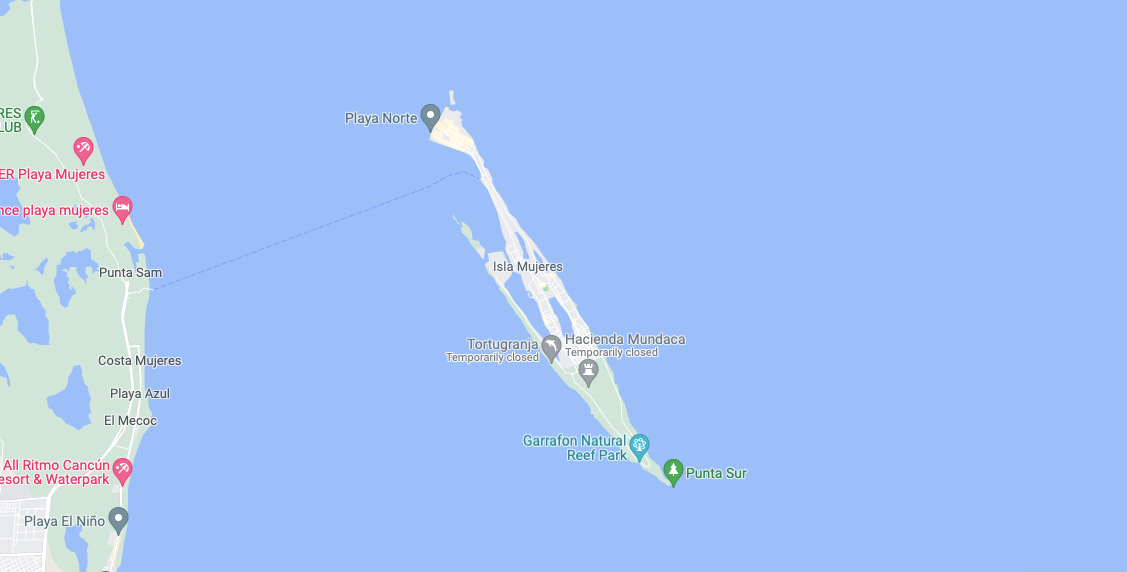 Where to stay in Isla Mujeres
The island is only four miles long and a half-mile wide, so I was surprised to learn that there are ~20,000 residents. It definitely doesn't feel that crowded!
After a few days of exploring, I've come to think of there being three main parts to the island.
Downtown / Playa Norte
The downtown area is the most popular. It's full of short, colorful buildings, lots of restaurants and souvenir shops, and some (slightly) quieter residential blocks and a few beach clubs on the outskirts. You can walk everywhere, including the ferry.
If you're making a short trip, don't want to have to drive, and/or want easy access to the beach, this is where you should plan to stay. We rented an Airbnb across from the Tiny Gecko Bar and it was a great location. Everything downtown was still an easy walk, but it was a bit quieter than being in the thick of it.
Punta Sur (Coastal areas)
The southern part of the island is much quieter and more spread out. There's no direct access to the beach (it's all cliffside) but the views are spectacular.
There are a handful of big resorts and more than a handful of larger rental houses that you can rent on Airbnb. If you're visiting the island with a big group, or want a super chill vacation where you lay in a hammock and/or alongside your own pool, this is your best bet. Look for anything south of the tiny airport, which is only used for charters and emergencies.
While you can technically walk to nearby restaurants and tienditas, it's not a super walkable area. Cabs are plentiful so you can call one for a grocery run, but if you plan to regularly eat out or explore, you'll want a bike or golf cart. All the resorts have them for rent, and most of the Airbnbs do too.
Punta Sur (Inland area)
The inland part of Punta Sur is definitely where most of the locals live. There are plenty of restaurants in this part of town, though they are a lot more local in feel. There's also a fair number of souvenir shops and some local amenities like laundromats, shops, etc.
It's not as convenient as downtown, or as tranquil as the coastal blocks of Punta Sur so it's probably not worth staying here unless you find a great deal or are looking to settle in for a longer trip.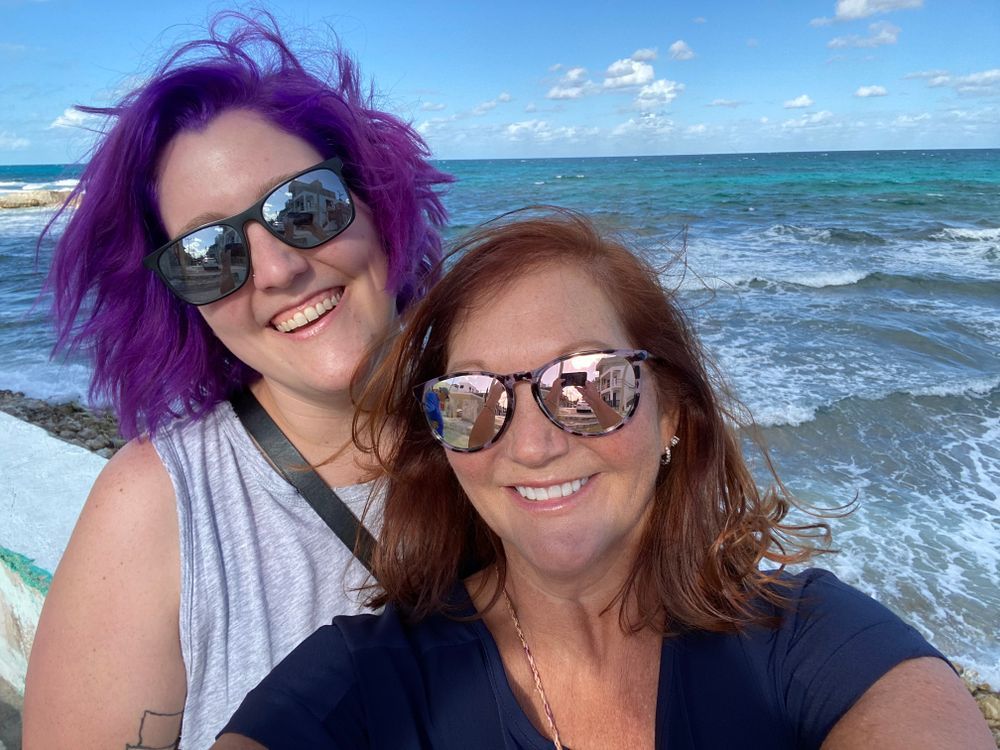 Recommendations
Stay downtown unless you're in a big group and/or looking for a more remote, isolated vibe. In which case, rent an Airbnb with bike or gold cart access.
Make a reservation at Limón before you go. I waited until the last minute because I wasn't sure of our plans so we missed out.
Mango Café was voted best breakfast on the island for a reason. The menu is small but everything is great. (Cash only)
Isla Brewing is the only brewery on the island. It's really small (there's no seating) but makes great brews. They offer free tastings (you just tip the bartender) and sell bottles by the 6-pack and by the bottle. They also have the cutest swag, if you're looking for original souvenirs.
Fish & Gin had the best cocktails! The seafood and service were also great.
Javi's Cantina is another good spot that serves Mexican seafood. Runner up for best cocktails. A+ service.
Guru Beach Club was a great spot to spend Christmas Day. They have a great pool and beach access. You can rent a lounger or cabana in either spot as long as you spend +1,000 pesos (~$50 USD) minimum, which is easy to do with their full food & drink menu. Just keep in mind that the actual beach is public so the area directly in front of the loungers can get crowded.
Go Isla Tours has a number of golf cart tours that give you a great lay of the land and more food recs than you could ever hope to get through. I enjoyed it but it felt a little overpriced for what it was. If you're looking for a cultural experience, or are on a budget, you can probably skip it.
These are my top recs but you can check out these + a few more on my Google Map.
Other things to note
Everyone speaks English. I got a lot of looks for speaking Spanish and paying with pesos.
You can use US Dollars or Mexican Pesos everywhere, but you'll get a much better rate if you pay in pesos. The exchange rate was 21-1 when I was there and most restaurants were offering 17-1. It adds up!
A lot of places are cash only. (Way more than I expected, even coming from CDMX.) The places that do take cards often pass along a 5% up-charge. My recommendation is to take out pesos from an ATM, decline any conversion that the ATM offers to do, and pay for everything in pesos.
Golf carts are the best way to get around. There are literally rental shops on every block so I recommend going to whatever one is closest to your hotel or Airbnb. It should be about $40 USD per day.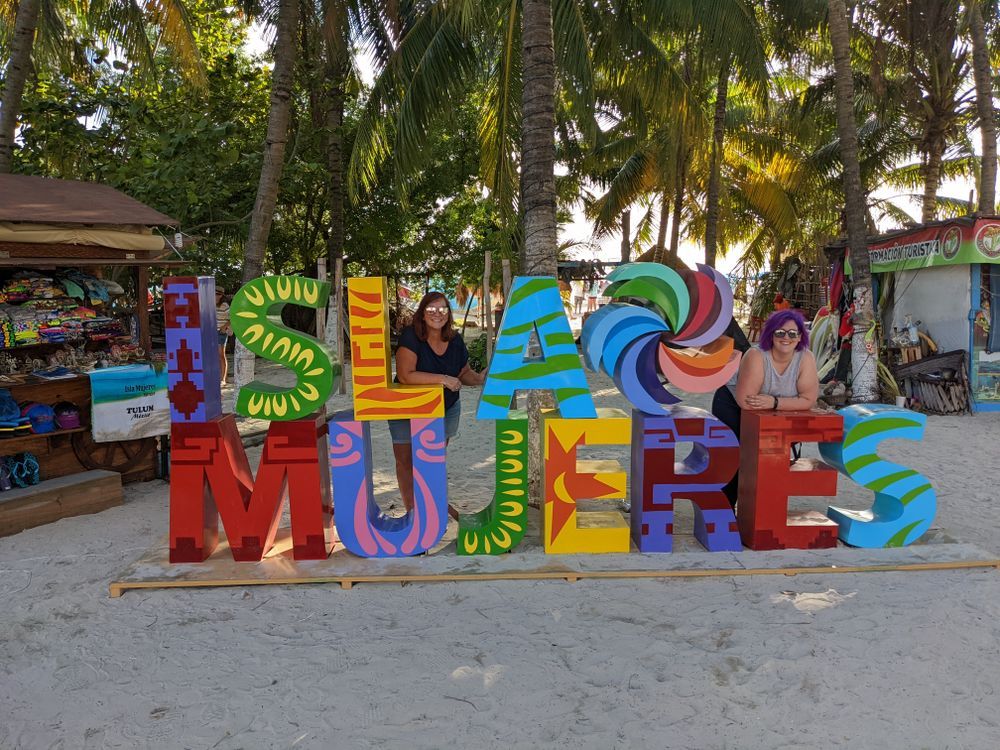 TL;DR
Isla Mujeres is a cute little island with friendly locals and lots of good food to be found between all the souvenir shops and golf cart rentals.
If you don't mind a touristy vibe, it's a great place to spend a few days chilling on the beach, eating good food, and doing nothing else. Especially if you can find a cheap flight to Cancun! But it's not worth a week-long or dedicated trip from abroad.
Caro Griffin Newsletter
Join the newsletter to receive the latest updates in your inbox.