Building culture on a remote team
Good company culture isn't just about giving gifts and throwing parties. But those things can help!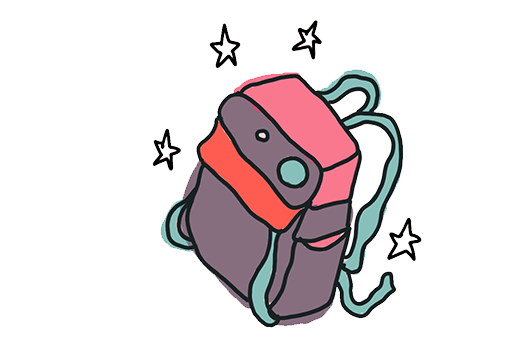 Skillcrush is a completely distributed company, meaning that we have no central office and are located all over the world, spanning languages, continents, and timezones. With the exception of a few clusters (several of us live in New York City and we have a bustling Florida contingent), most of rarely see each other IRL—if ever. The entirety of the Skillcrush team has never physically been in one place together, leaving us to guess at each other's heights. Instead, we do everything digitally, from meetings over Google Hangouts to daily chatter on Slack.
You might think that working in your house or co-working space—far away from your coworkers—is lonely. In fact, we recently talked about fighting isolation as a remote team on the first episode of our podcast, Hit Refresh. In the episode, our producer Haele commented that most of our institutional solutions for building culture on the team fall to me, our Director of Operations.
I'm embarrassed to admit that the thought had never really occurred to me. At least. . . not really. There are times where I feel like the team mom—the one who makes sure everyone gets a gif party on their birthday—but, honestly, I think that has less to do with my job and more to do with my personality. So the episode got me thinking about culture-building and how it really has to be a team effort instead of a top-down initiative instituted by managers or executives.
I often encounter skepticism from people who assume we couldn't possibly know each other the way co-located teams do, and that a bland company culture must be the price we pay for flexibility. But we are anything but boring! In fact, in a recent anonymous survey, the five words most used by our team to describe our culture were fun, friendly, empowering, supportive, and welcoming.
On a day-to-day basis, we make a point to talk about (and celebrate!) things other than work, and to let team members take the lead on team-building activities. We chat about our weekends, our kids, and our lives just like any other coworkers. We have real friendships over our computer screens—both in one-on-one chats and in group settings.
Just as critical to our daily interactions are the special events and clubs we make happen to foster our company culture and relationships. Here's a look at some of the things you might recognize from your own office, just moved online.
Baby Showers
We're experiencing a bit of a baby boom here at Skillcrush and could not be more excited about it. A sampling of responses to a recent baby announcement in our team chat include: "OMG WE HAZ BABY!!!," "he's so cute i'm DYING," "STAP IT RIGHT NOW HE IS PERFECT," and "omg get that baby in a skillcrush onesie omg omg."
To give us an outlet for our excitement and, you know, support the new parents and all that, we started hosting baby showers to send folks off on parental leave with lots of fanfare.
I even wrote a whole post about why and how we host remote baby showers.
Happy Hours
We can't take departing team members out for a drink on their last day of work, but we can throw them a remote "happy hour" to wish them well before they go.
These thirty-minute Google Hangouts turn a sad thing—saying goodbye to a teammate—into a celebration, so we throw them for departing team members whenever possible. The whole team is invited and everyone is encouraged to bring "whatever drink or snack makes you happy, given your personal preferences and/or time zone." There's no agenda, just casual chit chat about the team member's next adventure.
I often tell our students, "once a Skillcrusher, always a Skillcrusher," because we don't disappear when they're done with their coursework. Once they're in our community, they're in it, and I truly believe this extends to our team, too. Happy Hours are our way of reminding them that leaving doesn't actually mean saying goodbye and that they're stuck with us forever.
Book Clubs
We started the first Skillcrush Book Club almost three years ago and, while that one never made it beyond book one, at least three others are alive and well.
Our oldest club is no ordinary book club—it's "Superhero Instructor Training" for the folks on our Class Management and Curriculum teams, and it started as a way to discuss books we felt would help us better support students. Topics have since ranged from mentorship and online learning to feminist fight clubs.
The Marketing team, on the other hand, uses their book club to read everything from work-related books to young adult romance novels. (I'm told the latter was an accident but who knows with that group.)
And then there's Reading Death Match, a book club only in the loosest sense of the term. This cross-team group of hellions start new books at random intervals and compete in a "winner take all" challenge to see who can finish first. There is no discussion of the actual book, just a chat room where participants regularly update each other on their progress, taunt, tease, and liberally use exclamation points.
Despite the chat room topic (which simply reads, "Fight! Fight! Fight!"), we keep it pretty civil . . . most of the time.
Movie Nights
Since movie nights are a larger time commitment, and one of the few events hosted outside of "working hours," we do them more sparingly—but that makes them all the more special!
If you're wondering exactly how we manage to watch movies together from thousands of miles away, let me introduce you to a tool called Rabbit. It's similar to a Google Hangouts, except you can login into a number of streaming services (Netflix, Hulu, Amazon, etc.) and stream a movie in the main window. This allows a group to watch the same movie simultaneously, while still being able to see a film strip of everyone below, and chat with everyone in the call.
We watched Pitch Perfect for our first movie night, after our "ballot box" was illegally stuffed. (Ahem, you know who you are.) It turns out that remote movie nights are extra fun when you can see your coworkers singing and dancing along to the movie. Thankfully, everyone comes with their very own mute button! #sorrynotsorry
Holiday Gifts
One of our company values is lifelong learning and we're always looking for ways to support team members in this. (We even have an Educational Stipend that allows us to get financial support for learning anything we want!) But before we had that, we had an Instructor who suggested we let team members pick their choice of book as a holiday gift.
Three years later, the Instructor has since moved on to a super awesome job, but the tradition she started lives on. Every December, I make a short Google Form and team members submit a book, mailing address, and their preference for an ebook or physical copy. Then we use Amazon Prime to play Santa!
It usually ends up being an equal split of work-related and totally unrelated books. This year, our Director of Curriculum Chelsea submitted a link to Fantastic Beasts and Where to Find Them, along with the comment, "YEAH, YOU READ THAT RIGHT." (You do you, Chelsea.)
Pick-Me-Ups
As remote workers, we can't swing by a coworker's desk with an extra cup of coffee when we see them having a rough day, but we can find other ways to be there for them in good times and in bad.
Recently, a pregnant team member had a rough couple of weeks. The hits just kept on coming and she made a joke in HipChat that she could really use a drink. An amateur mixologist on the team volunteered to surprise her with a homemade mocktail kit! And when I broke my foot and ran out of caffeine, Ann, our Lead Web Development Instructor pulled up GrubHub from her home outside of Montreal and had a local restaurant deliver pancakes and coffee to my Chicago apartment. To this day, it's one of the nicest things anyone has ever done for me.
And while those are more elaborate examples, we've found small gestures go a long way too—things like giving another coworker a well-deserved shout out during an all-team meeting, or using your kid's puppet to brighten a coworker's day.
Of course, remote work isn't all friendship bracelets and Amazon Prime packages. As our CEO, Adda Birnir, put it on our podcast, "We didn't find utopia. We found a really good thing, but it's imperfect."
There aren't a lot of established best practices for remote teams, and we can't always find people with experience solving the problems we're trying to solve. That means lots of trial and error, and sometimes those errors are rough.
But good company culture isn't just about giving gifts and throwing parties. It's about actually being "fun, empowering, friendly, supportive, and welcoming" (all day, every day), and course-correcting when someone points out an action or behavior that isn't inline with those values.
And those are things we can all do—no matter how much distance there is between me and me coworker's desk. So when folks express doubt that we can really match an in-person culture, I say: Anything you can do, we can do remotely.
Caro Griffin Newsletter
Join the newsletter to receive the latest updates in your inbox.